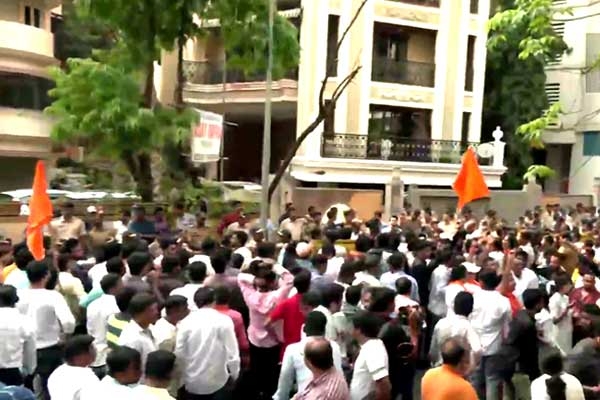 (Image source from: Twitter.com/ANI)
A tiff between Shiv Sena and the Independent MLA Ravi Rana and his wife Navneet Rana reached new heights after the Ranas told that they would recite the Hanuman Chalisa outside Matoshree in Bandra West to keep an end to the calamities that hit the state badly after Uddhav Thackeray took oath as the Chief Minister of Maharashtra. The Shiv Sena leaders asked the couple to take the step and warned them that they would give a fitting reply if they would proceed. Ranas asked Uddhav Thackeray to recite Hanuman Chalisa on April 16th during Hanuman Jayanthi as the state is under pressure. Ravi Rana and his wife Navneet Rana told that they would recite the same outside Matoshree if the Chief Minister did not do so.
After the incidents, heavy security has been deployed outside the residence of the Chief Minsiter Matoshree. A large number of Shiv Sainiks gathered outside the residence and the cops have been deployed to prevent any unexpected incident. Uddhav Thackeray is residing in Varsha bungalow in Mumbai and hee arrived with his son Environment Minister Aaditya Thackeray. The party workers arrived a party meeting took place today. The Chief Minister urged the party supporters to reach home informing him that one need guts to reach to his residence. The Chief Minister reached Matoshree after a large number of party supporters gathered outside his residence.