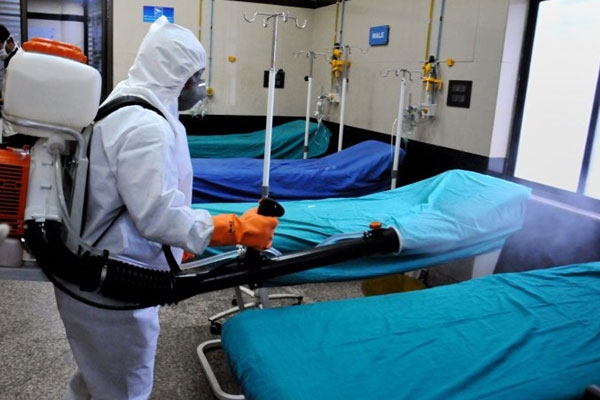 (Image source from: deccanherald.com)
With the rapid spread of the coronavirus pandemic, people from across the world are gearing up to meet the demands and ensure to buy maximum time for the healthcare workers. The Odisha government announced that they are going to build 2 500 bed hospitals exclusively for treating the Covid-19 patients, in case situations take a turn for the worse.
The hospitals are being set up with collaborative efforts from the Kalinga Institute of Medical sciences and SUM Hospital. The government announced this on Thursday and they believe that the same will become operational within a fortnight.
At the time of the announcement, Odisha did have only 3 positive cases but the government is gearing up to ensure that none of the citizens face the wrath of the virus. They want to be prepared in case they are hit with the worst.
84,000 people have travelled to Odisha, both within the states and internationally during the peak time, which is the reason why the state is taking all the necessary precautions to ensure the best in class facilities for the infected individuals.
The state government has also warned patients against visiting the local Kar clinic for in and outpatient facilities because of the imposing risks that are lingering around.
Addressing the lack of seriousness among the citizens, the Department stated saying, "In spite of repeated advisory, some private healthcare facilities are not complying with the COVID19 Regulations. Government urges them to act responsibly and follow regulations while treating patients with flu like symptoms. Non- compliance shall be viewed seriously."
This dedicated Covid-19 hospital is going to be operated out of the two available buildings offered by the two medical colleges. The funding for these two is going to come from Orissa Mining Corporation and Coal India subsidiary Mahanadi Coal Ltd. The funding has been drawn for 500 crore to help contain the spread of the coronavirus infection.
State funds and people's contributions will also be considered for the same.
Bishnu Panigrahi, CEO, KIMS has suggested that the one mistake that Odisha doesn't want to repeat that Italy probably did is to allow the infected patients to enter normally through the hospital without proper precautions, extending the risks further. They don't want to repeat that risk at all or take any kinds of chances.
Ashok Kumar Mahapatra, who is the director of health programmes in SUM Hospital stated saying that these two Covid-19 specific hospitals will not just provide with isolation wards but also ensure the best class ICU facilities for the patients who are in need of it.
By Somapika Dutta