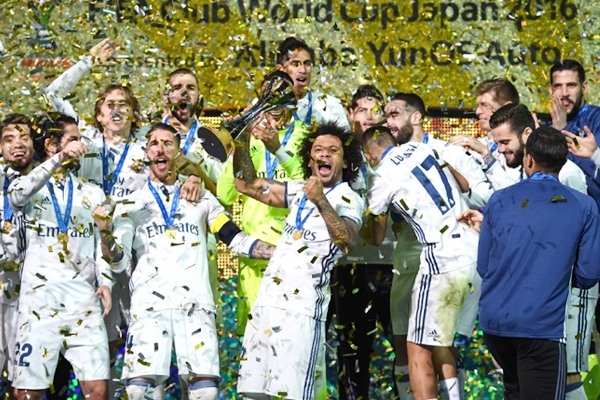 Real Madrid Clinched its 3rd title this year, by winning the Club World Cup final held on December 18th. It was a great year for Spanish Giants in the world of Football, Being a most valued team in Sports. Real Madrid won its 11th UEFA title and UEFA super cup this year.
Real Madrid was facing Japan's most successful club team, having won the J. League title a record eight times, Kashima.
Madrid were the favorites, pressure had been always on them as European champions. Though underdogs 'Kashima' did not let the world title go away from their hands easily.
Karmin Benzema netted the first goal, giving Madrid control over the game, but things did not go quite easily for Madrid. As Gaku Shibasaki of Kashima scored a brace equalizing in the 44th minute and took the lead against Madrid in the 52nd minute.
Cristiano Ronaldo, who won his 4th Ballon do'r on last Monday, scored a goal from the penalty spot, equaling the score to 2-2 in 60th minute.
With the final blow of whistle, score ended 2-2 as a draw and match continued to extra time. Pressure was surely upon Madrid as 11th time European champion cannot afford to lose. After an incredible unbeaten run of 35 games in Laliga and champions league.
97th minute into the extra time, Ronaldo got a beautiful through pass from Benzema. He converted that into a brilliant goal, giving Madrid once again a lead in the game.
Now by taking the lead, things seem to be clear for Madrid. But they have to assure that they take the cup with them by not loosing the lead. In the 104th minute, Cristiano Ronaldo scored his third goal and 40th Hat-trick for Real Radrid. That gave them a clear two goal lead, and now it was impossible for Kashima to make a come back into the game. With the end of the match, winners walked away with the trophy. Kashima walked away with respect from the world as they performed so well against Real Madrid.
By AMandeep