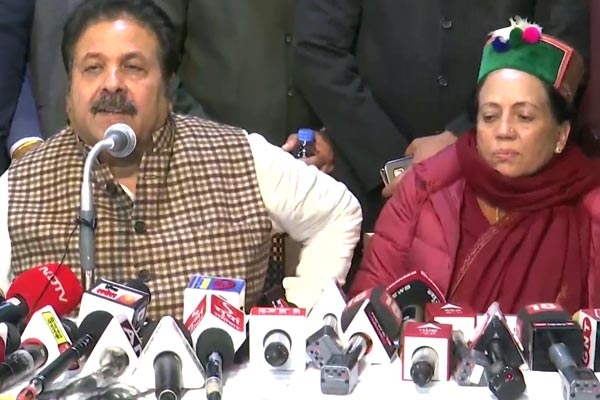 (Image source from: Twitter.com/ANI)
Congress finally had a news to cheer up. The party ended up winning in the Assembly polls that took place recently. BJP tried hard to lure some of the MLAs of Congress and the independents to cross the magical mark. A meeting was held in Shimla and all the Congress MLAs participated in the meeting. The meeting was held to decide the next Chief Minister of the state. Congress has close to four leaders and one among them will be finalized. Pratibha Singh, the Congress Chief of Himachal Pradesh is the frontrunner in the race. She is also the wife of Virbhadra Singh, the most experienced politician of Himachal Pradesh. He passed away last year.
Pratibha Singh worked as a Lok Sabha MP from Mandi and she comes from a royal family. Pratibha Singh did not contest in the elections but she was active in the election campaign. All the Congress MLAs loyal to her husband have been supporting her. Her son Vikramaditya Singh contested in the polls from Shimla and won in Shimla Rural. The three other leaders are former state chief Sukhwinder Singh Sukhu, Mukesh Agnihotri and Harshwardhan Chauhan. Former state Congress chief Kuldeep Singh Rathore is also heard to be in the race. Congress is extra cautious as the party is not in a mood to fall for the tricks of BJP and they are in plans to stay united.