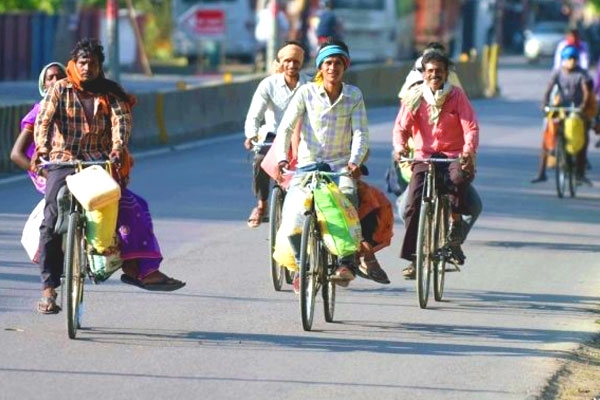 (Image source from: auto.economictimes.indiatimes.com)
A journey allowance will be given to the migrant workers who work in other states. A lump sum amount will be paid for a year for his/her travel to native place.
The labor code on occupational safety, health, and working conditions has been a hot topic among the government's representatives after the massive movement of migrant workers to their home towns amid the COVID-19 pandemic.
The whopping exodus of the migrant workers has triggered a debate about the welfare of these workers after which the government has taken certain decisions.
A bill was recently presented in the parliament which stipulates the journey allowance to the migrant workers and other benefits either in their native state or the state in which they work.
Calls for proper facilities to the workers in the state of their employment have been pressed in the parliament.
The bill says that both the central government and the states shall maintain a database of the migrant workers, mainly for those working in other states. The database can be of a record form or an electronic portal.
In the portal, the migrant worker will be asked to register himself or herself on the basis of self declaration form and their Aadhar cards.
Workers who have migrated to other states and have created self employment in that state are also advised to register themselves on the portal.
The bill has a separate section for migrant workers and as per the bill, the facilities shall be applied to any establishment which has 10 or more inter-state migrant workers who are employed on any day in the last 12 months.
The bill also mentioned that it is the duty of the employer to ensure suitable working conditions for the migrant workers keeping in mind that the worker belongs to another state but is required to work in a palace different from his own.
In case of any serious injury to any migrant worker, the employer shall ensure the medical check up, and will report the issue to the specified authority to extend all the benefits to the worker including the benefits under Employees Provident Fund, Employees State Insurance Act, and other provisions available at that time.
The bill makes it very clear that the migrant worker will be paid by the employer in his company or establishment, a lumpsum amount for the worker's to and fro journey to his/her native place from the place of employment.
- By Gayatri Yellayi