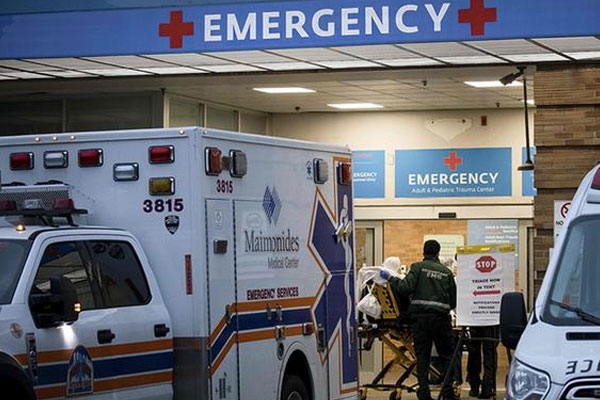 (Image source from: dw.com)
While the focus of the global pandemic of the novel coronavirus was on Italy and Europe till now with the rapid rise in the cases, things have shifted a bit and the focus has diverted to the United States now. The country reported the highest death in a day so far, crossing the 1000 mark.
As of Thursday, the total number of reported deaths because of the Covid-19 outbreak was 1,169 while the number of total cases have already surpasses 270,000. This is the highest number of confirmed case all across the globe.
The pandemic has now already infected over a million people across the globe, taking the death toll to over 55,000 at this point.
Italy has suffered the maximum deaths at this point, followed by Spain but the toll in US now accounts for quarter of the confirmed cases across the globe, making this the new epicentre of the disease.
The hospitals and the morgues in the New York City has been overrun by the patients and have been struggling to even bury the deceased because of the kind of rush and lack of space and area that they have around.
Even the state governor Andrew Cuomo had predicted that the misery for the country is about to get worse in the days to come. The state experienced the deadliest hit on Friday, reported over 500 deaths in 24 hours. The state has already reported over 2900 deaths at this point, the numbers increasing every single day.
Cuomo did break the news to the citizens citing that people might lose their lives because of the lack of ventilators around. He also said that if situation arises, he would make use of his authority to get the ventilators and the necessary protective equipments from the private hospitals which are not using them.
Cuomo even went on to saying, "If they want to sue me for borrowing their excess ventilators to save lives, let them sue me."
Experts have also reported that it is likely that US might end up experiencing 100,000 to 200,000 deaths. This is the reason why the officials have already guided the US Army to prepare for 100,000 death bags in case things take a hit for the worse.
Out of everything around, around 90% of the Americans are currently under stay at home orders. There have been imposed guidelines of social distancing and self isolation to contain the further spread of the disease at a rapid pace.
With the numbers increasing every single day, there are chances that US could take a hit for the worse and experience impacts that no one possibly could every think of.
By Somapika Dutta