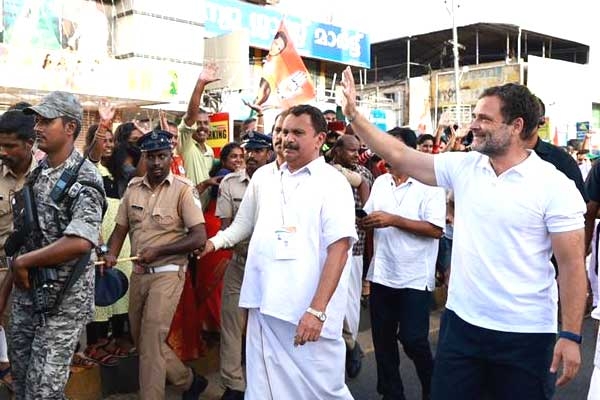 (Image source from: Twitter.com/INCIndia)
Congress leader Rahul Gandhi took up Bharat Jodo Yatra and he started the tour from Kerala. The tour completed seven days and the response is huge. Hundreds of people have been meeting Rahul Gandhi on a regular basis apart from the local Congress leaders. Rahul Gandhi resumed the eighth day off Bharat Jodo Yatra from Kerala's Navayikkulam near Thiruvananthapuram this morning. Rahul Gandhi paid his last respects for social reformer Sree Narayana Guru at Sivagiri Mutt in Kerala. Rahul Gandhi will continue the Bharat Jodo Yatra in the state for the next 17 days.
As #BharatJodoYatra completes its first week today, Shri @RahulGandhi visited Sivagiri Mutt to pay his respects to revolutionary Social reformer Sree Narayana Guru, who empowered millions and was an inspiration to Bapu & Ambedkar Ji. #BharatJodoYatra pic.twitter.com/8VAOi1VTa0

— Congress (@INCIndia) September 14, 2022
यह जनसैलाब गवाह है...

महंगाई, बेरोजगारी और अन्याय के खिलाफ उठी हर आवाज का..
बांटने वालों की सल्तनत को एकता की ताकत से तबाह करने के आगाज़ का...#BharatJodoYatra pic.twitter.com/yZbDtCmVTJ

— Congress (@INCIndia) September 14, 2022
Bharat Jodo Yatra will continue for 3500 km from Kanyakumari to Kashmir and it will be completed in 150 days. Bharat Jodo Yatra will cover 12 states. The tour will reach Karnataka on September 30th and it will continue for 21 days before he moves to North. Rahul Gandhi is covering a distance of 25 km on a regular basis. He said that the spirit of Bharat Jodo Yatra is to bring all the Indians together irrespective of the cast, creed and religion. Congress posted a picture of the burning pair of RSS Shorts on Twitter. BJP took a dig on the Congress for the picture.
To free the country from shackles of hate and undo the damage done by BJP-RSS.

Step by step, we will reach our goal.#BharatJodoYatra pic.twitter.com/MuoDZuCHJ2

— Congress (@INCIndia) September 12, 2022
The photo tweeted by Congress is nothing but instigating people for violence.

Congress has sent a message, through this photo, that people of particular ideology i.e. Sangh and BJP karyakartas should be eliminated.

- Dr. @sambitswaraj pic.twitter.com/J9uJSTWiUm

— BJP (@BJP4India) September 12, 2022