Gujarat Traders Sell Rakhis with Precautionary Measures to Raise COVID-19 Awareness
July 27, 2020 16:15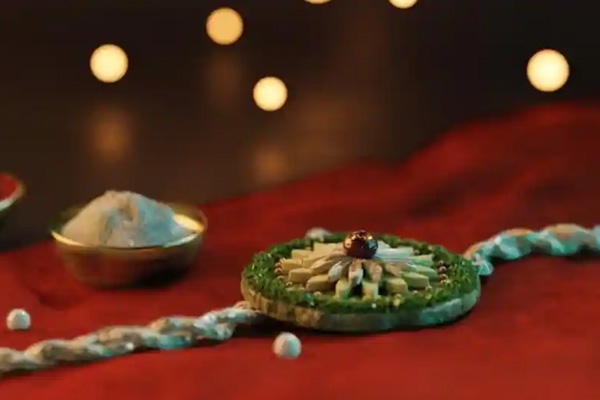 (Image source from: ndtvimg.com)
Raksha Bandhan will be celebrated across India on August 3 and Rakhi makers have already embarked on making rachis with different themes and subjects.
With the festival of Raksha Bandhan fast approaching, the rakhi makers of Ahmadabad have started packaging rakhis with precautionary messages related to COVID-19.
Every year the rakhi makers of Gujarat make rakhis with different messages and this year as the coronavirus pandemic took over the country, raising awareness on the virus has become a vital responsibility to all.
These Gujarati traders took the matter on their shoulders and designed rakhis with precautionary messages on COVID-19 so that the buyers would stay protected and save themselves from coronavirus.
Mohammad Iqbal, the rakhi trader of Gujarat, has spoke to the ANI on Sunday and told that Raksha Bandhan is a very important festival that shows love and affection between a brother and a sister. A sister would tie rakhi on her brother's wrist and this time she would also share the precautionary measures of covid-19 to her brother.
He also said that each year their team makes rakhis on different subjects and this year they have urged people to wear face masks, use sanitizers and follow social distancing through their rakhi designing and advertising efforts.
He added that due to PM Narendra Modi' urge to use indigenous goods and make the make in India initiative a success, many people have already stopped using Chinese products. He requested people to only buy Rakhis made locally in India.
With the use of local made products, many women and the poor have already got employment and became atmanirbhar (self-dependent) according to Muhammad Iqbal, the local Gujarati trader.
While, Jagdeesh, a shopper who visited Iqbal's store to purchase rakhis said that the traders have made excellent rakhis with precautionary messages for both brother and sister to stay home due to the current pandemic as this year has become challenging to the whole country.
Gujarat has around 57,000 confirmed positive coronavirus cases as on Monday, July 27. The death toll in the state rose to 2326. Meanwhile, 40,360 people have recovered from the deadly coronavirus.
Maharashtra, Delhi, Gujarat and Karnataka have been the worst-affected states in India due to coronavirus.
India's COVID-19 toll has crossed 14 lakhs and about 9 lakh patients have recovered from the virus. With the WHO's acknowledgement on airborne spread of coronavirus being a possibility, the government is urging people to be more careful especially in the enclosed spaces. Meanwhile, central government has announced work from home to IT companies across the country till December 31 this year.
By Gayatri Yellayi