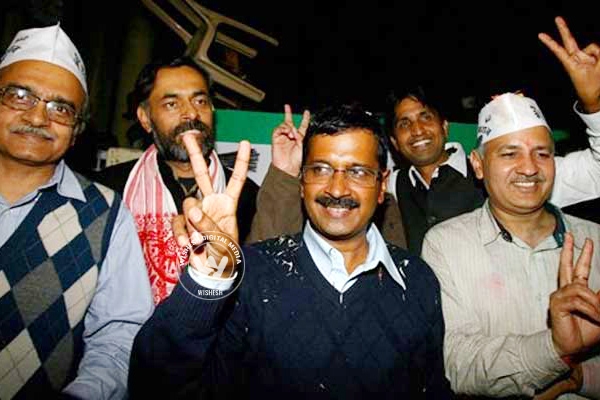 (Image source from: Kejriwal may resign today over Jan Lokpal bill})
Delhi chief minister Arvind Kejriwal may carry out his threat of resignation as the Jan Lokpal bill is unlikely to be tabled in the assembly today. On Wednesday the he Union law ministry conveyed to Delhi government that prior approval of the Centre would be needed before the Jan Lokpal bill is tabled in the assembly.
According to reports, the anti-corruption bill is not on the agenda for Thursday proceedings in the assembly. Besides the Delhi assembly has not yet received the bill from the government.
As per Kejriwal's threat on Sunday, the Aam Aadmi Party government is ready "to go to any extent" for passing the anti-corruption legislation, even at the cost of resignation. The Delhi CM had stated that it was more important to pass the Jan Lokpal bill than the survival of the government. Kejriwal had threatened that government would fall incase they are unable to pass the Jan Lokpal bill and Swaraj bill.
The AAP government seems all set for confrontation as it insisted on going through with its plans.  Kejriwal government even refused lieutenant governor Najeeb Jung's request to change its plan of  February 16, when a special assembly session would be held at Indira Gandhi Indoor stadium.
Seeing the adamant attitude of the AAP, the Congress has accused Arvind Kejriwal of creating a situation where the party would be forced to leave the government.
Both the Congress and the BJP are of the opinion that the Jan Lokpal bill cannot be introduced in the House before taking the approval of the L-G and the Centre as it would be a  violation of the "constitutional provisions" by the Delhi government.
(Picture Source: static.indianexpress.com)
(AW: Pratima Tigga)