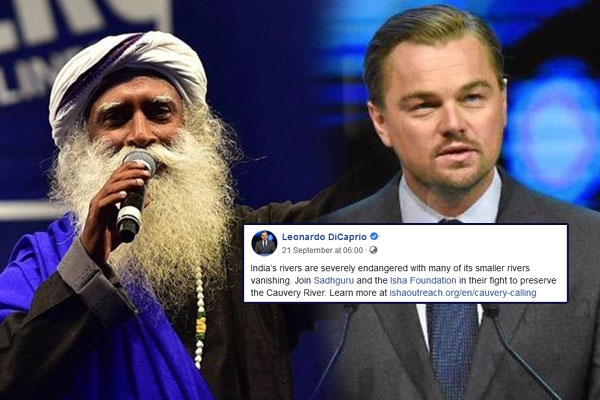 Hollywood actor and climate change activist Leonardo DiCaprio's support for 'Cauvery Calling', a campaign headed by Isha Foundation and Sadhguru Jaggi Vasudev, seemingly didn't go well with him.

A total of 95 civil society groups and 18 individuals have written to DiCaprio urging him to take back his support for the campaign.

On September 21, DiCaprio urged people to join the campaign 'Cauvery Calling' through social media.

In a Facebook post, the actor said:
India's rivers are severely endangered with many of its smaller rivers vanishing. Join Sadhguru and the Isha Foundation in their fight to preserve the Cauvery River.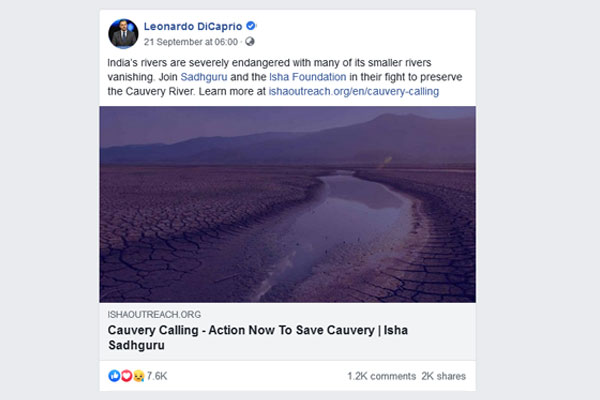 The letter composed by Leo Saldanha, a full-time coordinator of the Environment Support Group urging DiCaprio to withdraw his support for the campaign, received support from 95 organizations and 19 individuals in just a day.

The letter reads:
It is our considered view that you may have been poorly advised, or not have had the time to personally investigate the background of the promoters of 'Cauvery Calling', before you embraced the programme with this message on Facebook: Indeed the first part of your message is most welcome. However, we urge you to withdraw the second part of the message, as it amounts to promoting Isha Foundations 'Cauvery Calling.
The signatories in the letter are from across India including Plachimada Solidarity Committee; South Asia Network on Dams, Rivers and People, New Delhi; Equations, Bengaluru; Henri Tiphagne, People's Watch, Madurai; India Climate Justice; Alternative Law Forum, Karnataka; and Chennai Solidarity Group.
This is not a programme that will protect Cauvery, her forests, her biodiversity, her children, and her childrens' children. It will certainly not save Cauvery. On the contrary, support for this kind of a campaign sets a very wrong precedent
The nationwide campaign 'Cauvery Calling' was launched by Isha Foundation, a spiritual organization founded in 1992 by Sadhguru Jaggi Vasudev. As per the foundation, the campaign aims to plant 242 crore trees along the Cauvery river under the umbrella of Rally for Rivers, another campaign earlier launched by the same foundation.  

In the letter, it was also stated that:
It (Cauvery Calling) comes across as a method that promotes a monoculturist paradigm of landscape restoration which people of India have rejected long ago. Besides, such a programme could create unintended and unforeseen social and ecological consequences, as planting trees in certain regions (grasslands and floodplains for instance) could result in drying up of streams and rivulets, and destruction of wildlife habitats.
A public interest litigation filed in Karnataka High Court has raised a number of questions about how the foundation was gathering funds from the public for the campaign.   

Raising questions over the credibility of Isha Foundation, environmentalists stated in the letter:
Isha Foundation has very low credibility in conforming with Indian laws protecting human rights and environment. No less an authority than the Comptroller and Auditor General of India, a constitutional body, has reported that the foundation has built its headquarters into an elephant corridor and on land belonging to Adivasis (original inhabitants of India, who are indigenous communities).
The environmentalists also invited DiCaprio to the Cauvery Basin to get an understanding of the situation on-ground directly.
We would like you to join our grassroots based, consultative, collective and networked efforts, to rejuvenate Cauvery. Meanwhile, we urge you to withdraw your call for support to 'Cauvery Calling'.
Since the launch of the campaign, hundreds of celebrities came out to support CauveryCalling. Some of the noted celebrities include Kangana Ranaut (Donated 1 lakh saplings), Tamannah Bhatia, Kajal Agarwaal, Kiran Bedi, Juhi Chawla, Nawazuddin Siddiqui, Harbajan Singh, Shahrukh Khan, Rakhshit Shetty, Ragini Driwedi, Rakul Preet Singh, Ravichandran Ashwin, Diganth, Samantha Akkineni, Hari Priya, Upendra, Pineeth Rajkumar, Trisha, Kamal Hassan and much more celebrities are part of this initiative.

By Sowmya Sangam