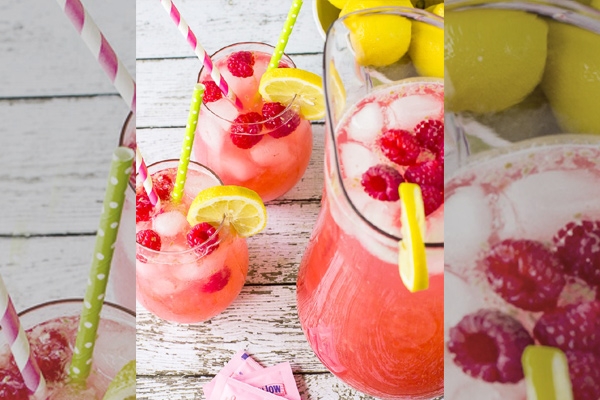 (Image source from: Soak up summer fun with raspberry lemonade)
The swimsuit season is in full swing. This means it's time to slather the sunscreen, slip into a two piece and make a plunge in the pool and enjoy lapping up the cool waters even as you sip on delicious drinks. Today we bring you one such lip-smacking drink that isn't just refreshing, but oozing with flavors and colors. Raspberry lemonade is so simple and lip-smacking that you can't do with just one glass of it. Read on for details.
INGREDIENTS
½ cup Sweet'N Low (12 packets)
1 cup water
1 ¼ cups fresh lemon juice (about 6 lemons)
2 cups raspberries, pureed
3½ cups cold water
ice cubes
INSTRUCTIONS
In a small sauce pan, mix Sweet'N Low and water and simmer. Stir in sugar and let it dissolve.
Once done, remove from the heat and let it cool to room temperature.
Take raspberries in a food processor and blitz until smooth. Pour pureed raspberries in the sugar water and stir well. Squirt in some fresh lemon juice.
Mix the raspberry mixture and the cold water in a large pitcher with lots of ice.
Serve chilled with thin slices of lemons and raspberries.
AW: Suchorita Choudhury