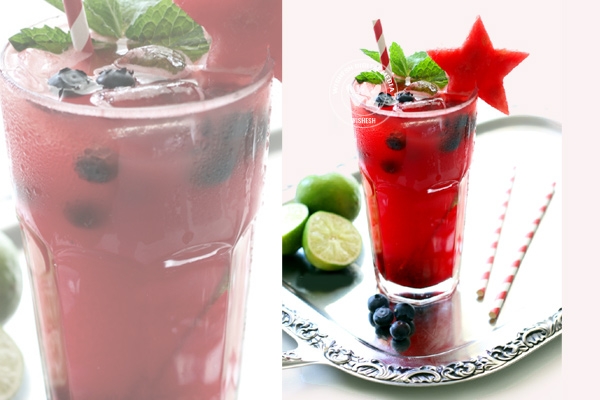 (Image source from: Bottoms up with Watermelon Blueberry Mojito)
We simply can't seem to get enough of watermelons this summer which is why we are back with yet another lip-smacking watermelon drink recipe today. The quintessential summer fruit, there is no end to the kind of mouth-watering goodies you can concoct with red, ripe watermelons. Our today's recipe is a perfect sundowner — Watermelon Blueberry Mojito. Fruity-fresh and quick, this classic mojito shakes up in minutes. So what are you waiting for. Go ahead and bottoms up!
Ingredients
1 cup ice
1 cup watermelon juice (see notes)
2oz / 4 tablespoon white rum
1 sprig mint (10-12 leaves)
1 tablespoon lime juice, fresh squeezed
1 cup blueberries
Sparkling water
Instructions
Take ice, watermelon juice, rum, mint and lime juice in a cocktail shaker and give a hardy shake.
Pour in a tall glass and top off with sparkling water, mint, and blueberries and serve.
AW: Suchorita Chowdary