(Image source from: Bring in the mango season with Aam Burfi)
Is your sweet tooth aching for some sindulgence this summer? If so, the try making this summer special sweet treat - aam burfi (Mango burfi) at home. Rest assured, you cannot stop at one. That's right! This one helluva delish Indian summer sweet is so finger-licking good and bursting with mango flavors that you cannot stop yourself from sindulging. Note the recipe and wow your family with this little "hatke" mango recipe.
Ingredients:
Mango pulp - 3 cups
Sugar - ¼ cup
Milk powder - 1 cup
Full cream milk - 2 cups + 2 tbsp
Condensed milk - 100 gm
A big pinch of saffron
Cardamom powder - 1 tsp
Ghee - 2 tbsp
Slivered almonds and pistachios
Saffron
Silver paper (Warq)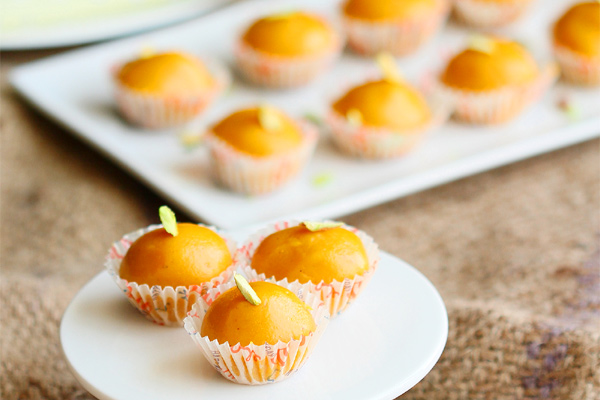 Instructions:
Douse the saffron in 2 tbsp of milk for 30 minutes or more.
In a pan, mix milk powder and full cream milk and stir to make a lump free mix. Keep aside.
In a heavy bottom pan, cook ¼ cup of sugar and mango pulp until thick and saucy.
Once enough thickened, add the milk mixture, cardamom powder and saffron doused milk and mix well. Keep stirring at intervals.
Once the mixture is reduced to half, add a tbsp of ghee and condensed milk and stir again.
Cook until the mixture leaves the sides of the pan and forms a soft dough.
Remove from heat and spread it over a greased plate. Allow it to cool until set.
Top with slivered almonds, pistachios and saffron. Cut into diamond shape burfis or roll into small balls. Top with saffron and silver paper.
AW: Suchorita Choudhury