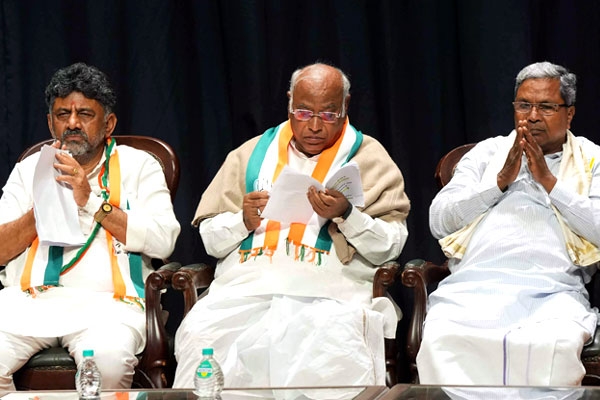 (Image source from: PTI)
Karnataka congress leaders DK Shiva Kumar and Siddaramaiah are giving tactic pressure on Congress. DK Shivakumar cancelled his Delhi tour on the 16th and claims that he is suffering from stomach pain and blood pressure.
Mallikarjuna Kharge is in Delhi and going to meet Priyanka Gandhi and Rahul Gandhi before taking the decision. Both DK and Siddaramaiah were also invited to Delhi. While Siddaramaiah reached Delhi yesterday afternoon, DK postponed his plan for today.
DK Shivakumar said that he is not fighting for the chief minister post, yet his last-minute cancellation is indirectly mounting pressure on Congress's high command. DK also said that he alone has all the 135 MLAs on his side. DK Shivakumar's brother DK Suresh had discussions with Kharge at his residence yesterday late at night, where more mileage was added for speculations about the next chief minister of Karnataka.
Congress party leaders also met Kharge and expressed their views through a report. The swearing-in is scheduled for May 18th and Mr Kharge is going to take a call on who will be the next CM.