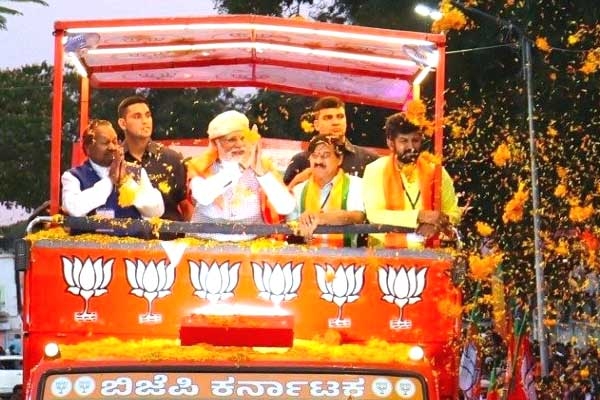 (Image source from: Twitter.com/BJP4India)
Prime Minister Narendra Modi held a road show in Mysuru on Sunday as part of the Karnataka election campaign. He addressed six public rallies in less than two days. He was surrounded by saffron leaders Ramadas, who was denied a ticket for the elections, Eshwarappa, who is about to retire from politics and Mysuru MP Pratap Sinha.
Men in Peta and Kurta, and women in Bharatanatyam dancer's attires walked along the road in support of the Narendra Modi rally. Modi addressed three rallies in Old Mysuru and attacked JDU and Congress. Modi said that both Congress and JDU pretend to be two different parties, but are one from the heart.
The magic of PM Modi in Mysuru, Karnataka!

It's BJP once again! pic.twitter.com/4e4NJtp5PX

— BJP (@BJP4India) April 30, 2023
Narendra Modi replied to the comments of Congress President Mallikarjuna calling him a poisonous snake. He said I am happy to be a snake as a garland to Lord Shiva, by representing the people of the country as Lord Shiva.
While he was addressing the meeting, there was a breach of security. One of the BJP women workers hurled the phone out of excitement and who have no ill intentions. While the incident has raised eyebrows on the security of Modi. He going to address a huge public meeting at Hospet, Vijayanagara district tomorrow.
Glimpses from Kolar, Channapatna, Belur and Mysuru!#ManeMagaModi pic.twitter.com/mSB4tNBtKY

— BJP (@BJP4India) April 30, 2023