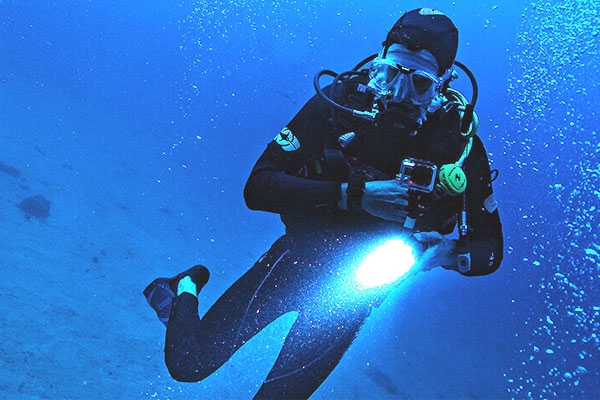 (Image source from: Cancunscubacenter.com)
In an attempt to enter the Guinness Book of World records, a 100-year-old man went for scuba diving on Monday.
Bill Lambert of Rockford, who turned 100 years old on Saturday to a plunge into water for a 27 minute dive in the South Beloit's pearl lake in a bid to enter the Guinness Book of world records.
Before attempting the record, Lambert told a leading daily that he is unclear if he has to jump up or down or fall down.
Lambert's daughter and son-in-law made a trip from Boston and his granddaughter has come from Newyork to witness the rare dive of him.
Some of Lambert's friends from the loves park scuba have also accompanied him.
Reportedly, Bill Lambert is the oldest scuba diver alive who is attempting  this stunt.
The diver has to stay underwater for at least 20 minutes to qualify for the record. However, Lambert's dive was 27 minutes long.
After the completion of his dive the century old man said that he feels good but tired and he is alright because of the extra oxygen in his diving tank.
Lambert also went for scuba diving at Mexico when he was 98 years old. However, he did not register it for the guinness records.
The centenarian is full of energy and hope that he wishes to beat his own record again at the age of 101 next year. Such an inspiration!
Currently, the world's oldest scuba diver title is held by the British diver Wallace Raymond who took his dive challenge at the age of 96 in 2019.
He completed his dive at Larnaca Bay, Cyprus. He has achieved this record for three years in a row.
Earlier in the last month, an Ecuadorian husband and wife couple with the combined age of 214 years were named the oldest couple alive on this planet by the Guinness Book of World records.
It is yet to be seen if Lambert's mantle brings his dream come true and he records his name in the Guinness Book of World records.
- By Gayatri Yellayi