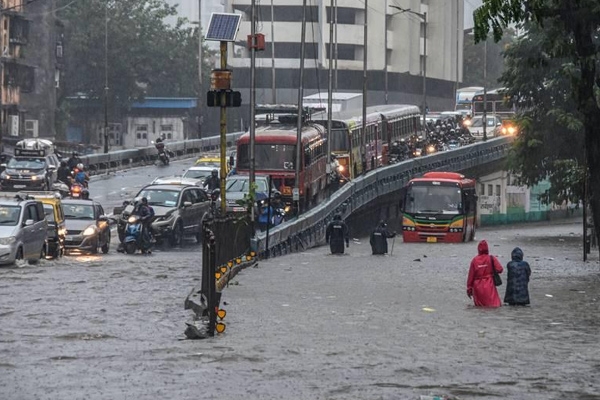 (Image source from: thefederal.com)
Mumbai is seeing the heaviest rainfall since 2005. Local trains have been stopped and offices are closed. Red alert has been issued in the city for 2 days.
Heavy rain has been pouring into Mumbai, the first time since 2005. The city is full of deluge and chaos everywhere. The city has recorded 198 mm of rainfall in four hours which is rare and huge.
The local trains which are a lifeline for Mumbaikars have been stopped and all the offices are closed except for some emergency services. The Indian meteorological department has issued red alert in the city for 2 days and says there's chance for heavy rainfall in the coming days.
Apart from Mumbai, the red alert has been issued in Thane, Pune, Raigad and Ratnagiri districts of Maharashtra.
Here are the major points of the Deluge in Mumbai:
Brihanmumbai Municipal Corporation (BMC) has issued a statement asking people to stay at home and come out only for emergency services.
Bus services have been diverted in several routes and the suburbs. There was no impact on the flight services except for reduced visibility.
A woman and her two children were swept away with the rain at the Mumbai suburbs. The policemen tried to help but they succumbed to the rains.
The downpour started at 7 pm last night and slowed down around 5 am in the morning. 230 mm of rainfall was recorded last night.
The Mithi river swelled up this morning and has crossed the danger mark of 27 meters.
26 places in the Mumbai city have reported heavy flooding. Goregaon, King circle, Hindmata, Dadar and Bandra Talkies were few of the areas with heavy floods.
The meteorological department has warned of strong winds off the North-Maharashtra coast for today and tomorrow.
Tide waves of around 4.51 meters have been predicted for today and tomorrow.
The city corporation has also put on alert the fire brigade, pumping stations and operating staff and 299 locations
Mumbai's streets get flooded regularly during the monsoon season which runs from June to September or October.
Almost every monsoon season, Mumbai tries to cope with the chaos caused by the annual rainfall.
Last year heavy rainfall in the state has caused severe disruption to rail and road transport.
This heavy deluge in Mumbai comes in a time when Mumbai is already suffering from coronavirus crisis.
By Gayatri Yellayi