NIT's to Allow Students with Pass Marks in Class 12 exams for Engineering Admissions
July 24, 2020 13:42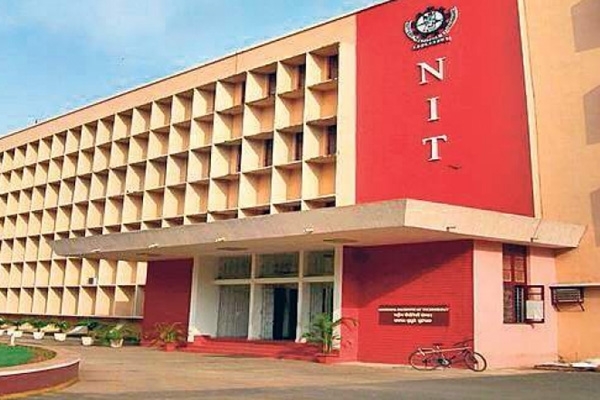 (Image source from: newindianexpress.com)
JEE Mains 2020 will be the main criteria for admission into National Institutes of Technology (NIT'S). Students should just have a passing certificate of class 12 exams.
Amid the rise in coronavirus cases in India, Central Seat Allocation Board (CSAB) has relaxed the admission rules for getting into NIT's and Centrally Funded Technical Institutions.
NIT's will consider those students who have good scores in JEE Mains 2020 examination which is going to be held in September.
The HRD ministry on Tuesday said that students who have qualified JEE Mains will only need a Class 12 certificate to get into NIT's.
However, the earlier rules for NIT's admissions for undergraduates include obtaining at least 75% marks in Class 12 examinations or must be in top 20% of students in their respective boards.
Earlier this month, IIT's have also made it clear that it would only consider top scorers in JEE mains and advanced exams for entrance into their coveted institutes for this year due to COVID-19. IIT's also used to consider 75% mark in Class 12 as the main criteria for admissions.
However, due to lack of proper conduct of Class 12 board examinations this year and marks being allotted based on previous exams, both NIT's and IIT's have decided the relax their rules with respect to class 12 boards.
The board exams and many other entrance exams were disrupted due to the pandemic taking its route to India. On July 3, Human Resource Development Minister Pokhriyal had announced that the government has decided to postpone IIT JEE and National Eligibility cum Entrance Test (NEET) for the safety of the students.
The JEE mains exams will now be held from September 1 to 6 and JEE advanced examination will be held on September 27.
However, the flexibility of admission rules for IIT's and NIT's will only be applicable for this year. The academic calendars and schedules for many schools, colleges and universities have been severely disrupted and the government has already announced 30% reduction of syllabus for classes 9 to 12.
Recently, UGC grant commission has passed a rule saying it would conduct term end examinations of Universities compulsorily by September-end.
This has caused severe uproar across the country by the students from Karnataka, Assam, Uttar Pradesh, Bihar, Meghalaya and other states.
UGC has asked the universities to conduct exams by pen and paper mode or online mode. It says that 603 universities across the country have approved feasibility for the conduct of the exams.
UGC says that performance in the final semesters or term end exams determine the future of the students, gives them credibility and wider acceptability.
However, 31 students have recently moved Supreme Court against the decision saying it would not be appropriate for students to write exams in this COVID-19 crisis.
By Gayatri Yellayi