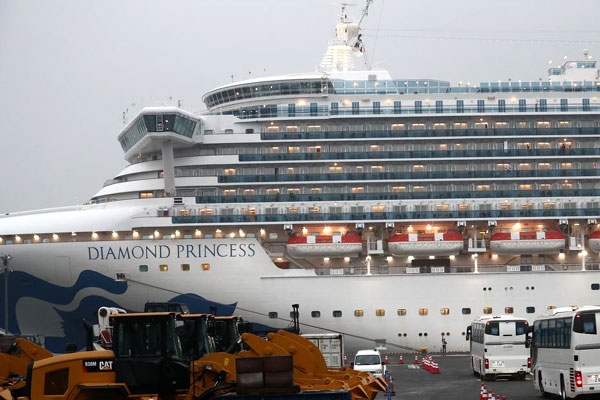 (Image source from: scroll.in)
The Indian Embassy has said that another Indian who has aboard a quarantined cruise ship off Japan has been tested as positive for the novel coronavirus and has been shifted to hospital. With this, the total number of Indian nationals that have been infected with the virus is said to be seven, as said by the Indian Embassy on Wednesday.

It has been recorded that among the total number of 3,711 passengers, 621 people have been found to be infected with the deadly coronavirus as of Wednesday. Around 99 people have been recorded as being affected on Monday and another 88 people have been tested positive on Tuesday.

The Indian Embassy has said in a tweet that one Indian crew who has been tested positive for being infected with the deadly COVID- 19 among the 88 new cases on the Diamond Princess has been shifted to hospital for undergoing treatment.
1 Indian crew who tested positive for #COVID19 among 88 new cases yesterday on #DiamondPrincess taken to hospital for treatment. Indians receiving treatment responding well. From today, disembarkation of passengers only started, likely to continue till 21 Feb. @MEAIndia

— India in Japanインド大使館 (@IndianEmbTokyo) February 19, 2020

Around six Indians have been tested positive for the deadly coronavirus in the cruise earlier.

The Indians who have been infected were showing good response in the treatment, said the mission who was responsible for the treatment.

The ship that had arrived at the Japanese coast earlier in the month of February comprised a total number 3,711 people were on board the ship out of which 138 were said to be Indians which included 132 crew and six passengers.

The ship has been quarantined when a passenger who had de- boarded the ship in Hong Kong in the month of January was found to be a carrier of the deadly coronavirus.

The passengers had began to leave the ship on Wednesday after the quarantine period of two weeks has come to an end but it has failed to stop the COVID- 19 virus from being spread among the passengers and the crew in the ship.

Around 340 nationals of the United States have been evacuated on Monday from the ship and they are said to be in quarantine for another two weeks.

It has been recorded that the cases of individuals being infected with the deadly COVID- 19 has been crossed 2,000 in China which is said to be the epicenter of the virus and the death toll has been observed to be more than 136.

The outbreak of the coronavirus has been observed in the month of December in the previous year of 2019 and it is said to be spread steadily across several countries which is said to be more than 25 countries which also included India. This has led to the government of various countries to put a ban on the arrivals from China.

However, major airlines have suspended their flights to the country of China.

By Shrithika Kushangi