Budget session: President calls for debate in a spirit of cooperation and mutual accommodation
February 23, 2016 14:58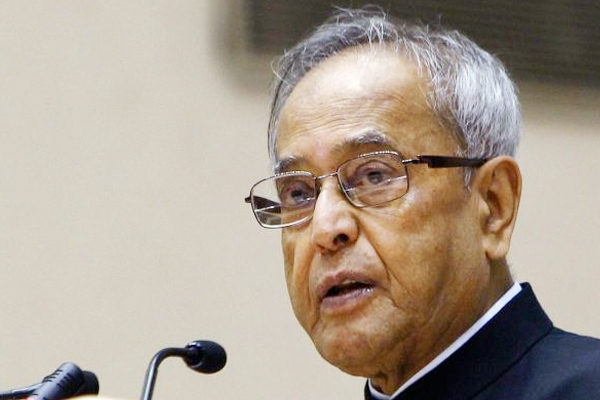 (Image source from: Budget session: President calls for debate in a spirit of cooperation and mutual accommodation})
President Pranab Mukherjee, in his address to a joint session of Parliament, called upon all MPs to discharge their responsibilities in a spirit of cooperation and mutual accommodation. He declared that the government would strive for smooth and constructive conduct of Parliamentary business. "Let noble thoughts come from all directions, should be the spirit behind the debate in this temple of democracy. Being a member of this great institution bestows great honour as well as important responsibilities," Mr. Mukherjee said.
The President said terrorism is a global threat and strong counter-terrorism measures are necessary worldwide to eradicate it. "Let me congratulate the security forces in successfully foiling the recent attack at the Pathankot airbase by terrorists. Firm and effective steps will be taken to deal with any situation arising out of cross-border terrorism," he said.
"Development for all means that backward sections of society are equally valued and are genuine stakeholders in the country's progress. Development for all implies that we
tackle the pollution, traffic, and garbage problems that plague our cities," he said.
"The overriding goal for my government is poverty eradication," he said, adding the poorest of the poor were entitled to the first charge on the nation's resources.
"To provide the best market price to farmers, the unified National Agriculture Market is working towards setting up a common e-market platform to connect 585 regulated wholesale markets, thereby making India, One Food Zone, One Country, One Market."
"My government, in particular, is focussed on 'Garibon Ki Unnati', 'Kisano Ki Samridhi' and 'Yuvaon Ka Rozgar', Rural development is one of our top priorities," the President said.
Mukherjee showcased the government's promise of housing to all, doubling food security cover, launch of social security pension schemes and the sanitation drive besides identifying the well-being of farmers as vital to national prosperity.
"We must ensure that the poor and deprived are truly empowered to take advantage of opportunities to improve their lives. Sabka Vikas means that backward sections of society are equally valued and are genuine stakeholders in the country's progress," he said.
"The eyes of 125 crore countrymen are focused on Parliament, the rail budget and the general budget. World is also paying attention to the Budget Session due to India's position in the global economy today. There has been discussion with parties for the last many days," Prime Minister Narendra Modi said.
By Premji