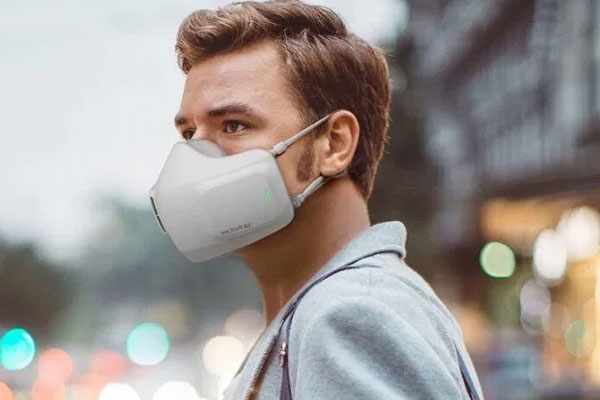 (Image source from: innovation-village.com)
The mask has two fans to make it easier to breathe. The fan speeds are auto-adjusted according to the breathing pattern.
LG, the premier electronic company across the world has officially introduced a battery-powered air purifier mask which is portable and can be worn same as a cloth face mask.
Named as Puricare Wearable Air Purifier, the mask from LG uses a pair of replaceable filters which you can normally find in LG's range of air purifiers which are used at home.
The face air purifier also has battery-powered fans to help you breathe easily through the mask.
The company says that the speed of the fans is automatically adjusted according to the way a person breathes in and out.
The company mentioned that the purifier air masks are designed and developed considering the seriousness of the coronavirus pandemic.
LG also specified that these portable air purifier masks are designed to replace the inconsistent home made masks which are being worn by some people till now.
The wearable air purifiers from LG will also become a replacement for the disposable masks which are now facing a shortage in supply.
In July, when LG has announce the decision of launching air purifier wearable masks it said that it would donate 2000 of these masks to a University hospital in Seoul.
The company hoped that these masks would help the medical staff at the hospital save themselves from catching COVID-19 as this mask can be worn for hours together and need not be replaced after treating every patient.
It is important to note that LG did not make any promise in its press release event that their air purifier wearable mask would slow the spread of coronavirus.
The company is, however, waiting until the certification and the testing is complete to give the full details about the efficacy of this air purifier mask.
This announcement from LG's press release event comes as a major contradiction as face masks are generally used to prevent coronavirus yet LG does not claim it.
The USA's Centre for Disease Control and Prevention says that it recommends the use of face masks with exhalation valves or vents to prevent the spread of coronavirus. The reason for this is that these masks with filters do not filter out exhaled respiratory droplets that could allow wearers to infect those in the nearby vicinity.
LG's Puricare wearable air purifier comes with an 820mAH battery that can stay up to 8 hours at a time after which it needs to be charged.
The battery provides 8 hours of use in low power mode and just 2 hours in high power mode.
The air purifier masks will be made available in select markets by the company by the end of this year.
By Gayatri Yellayi