Indian International Film Festival Melbourne Launched by Kangana, Sonam, Anil Kapoor, Imran Khan
August 14, 2015 19:38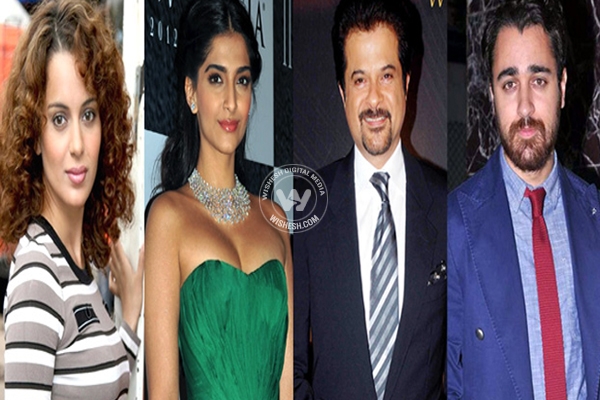 (Image source from: Indian International Film Festival Melbourne Launched by Kangana)
Bollywood stars Kangana Ranaut, Anil Kapoor, Sonam Kapoor, and Imran Khan kicked off the fourth edition of the Indian Film Festival of Melbourne (IFFM) on Friday (August 14) at Melbourne, Australia.
More than 55 films from India, Pakistan, Nepal and Bangladesh, will be screened with a range of cultural events, which includes a day of festivities at Federation Square to mark the Indian Independence Day on Saturday, August 15.
The festival is aimed at fostering the next generation of talent. It is an opportunity for the Filmmakers to take part in a masterclass with Indian filmmaker Nagesh Kukunoor. Nagesh's children's film "Dhanak" took out a Grand Prix Award for Best Feature film at the 2015 Berlin Film Festival.
State Minister for Creative Industries, Martin Foley inaugurated the festival, which falls on the Indian Independence Day for the first time. It will be celebrated with a flag-hoisting ceremony in the presence of the Indian High Commissioner Navdeep Suri and Anil. After which a Bollywood dance competition open to all dancers will be conducted.
The event will feature a fashion show that showcases the work of Australian and Indian designers, including Anamika Khanna, the first Indian designer who was invited to the Paris Fashion Week.
Performers in Melbourne will have a chance to learn the tools of the trade from the famous Indian TV comedian Kiku Sharda. The 2015 festival centres on the theme of "Equality", which will be explored through a range of different lenses, from sexuality and gender to disability and religion. However, the winners of the IFFM Awards will be announced at a red carpet gala event at the National Gallery of Victoria, a day after.
"The Andrews Labor Government proudly supports the Indian Film Festival of Melbourne, an event that celebrates all the cultures and our state's close ties with India," Foley said. "The festival gives people the opportunity to experience Indian cinema and creativity, and enables our local creative industries to learn from one of the most successful film industries in the world."
Film Victoria, CEO Jenni Tosi said, "The Indian Film Festival returns to Melbourne with the vibrancy and energy that only this event can produce." The Festival Director Mitu Bhowmick Lange said, "We are incredibly excited to present this wonderfully diverse and vibrant festival. We can't wait to see you all come and enjoy the many flavours, events and films that we have lined up for you."
(with agency inputs)
By Sree Teja