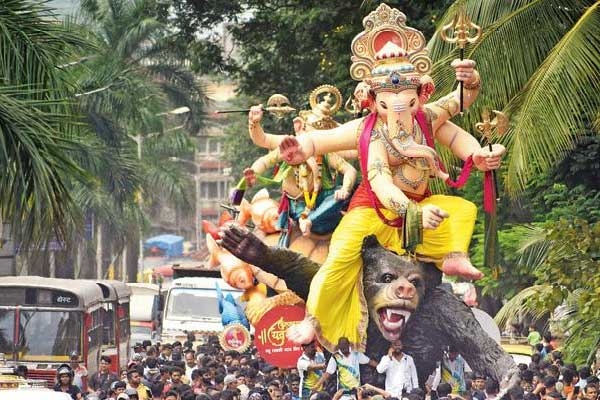 (Image source from: Mid-Day)
The much admired and most celebrated Ganesh festival, Ganesh Chaturthi, has eventually kicked off around the country with fervor.

The festival began with devotees, largely dressed in conventional clothes, bringing colorfully-crafted Ganesh idols in their abodes and pandals and installing them amid chants of 'Ganapati Bappa Morya'.

Ganesh Chaturthi, also known as Vinayak Chaturthi, is celebrated across the country as the birthday of Lord Ganesha which comes to an end on the 11th day, people coming out in sizable numbers for immersing the idols in different water bodies.

Over the past few years, increasingly people are preferring eco-friendly idols so as not to harm the environment.

Nevertheless, the unique and modern ideas are a treat to us this time:

An image of Ganpati made of Bananas are going viral on social media
    Go green Ganesha (Image Source: Reddit)

Renowned sand artist Sudarsan Pattnaik, hailing from Bhubaneswar, Odisha has over again impressed all with his craftsmanship. He oftentimes creates mind-blowing art on the beautiful beaches of Puri.

                       Image Source: Zee News
Right from idols of Ganesha as Spiderman to idols of Ganesha as Bahubali, there were infinite unique idol options made available in the market.
                     (Rudra avatar Ganesh idol) Image source: Times Now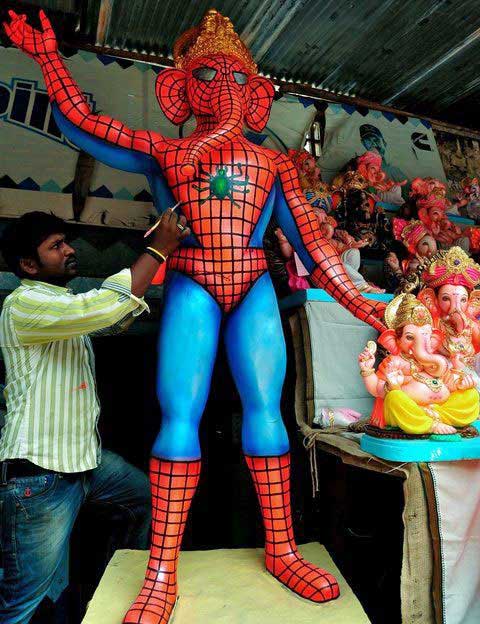 (Ganesh idol made of fruits)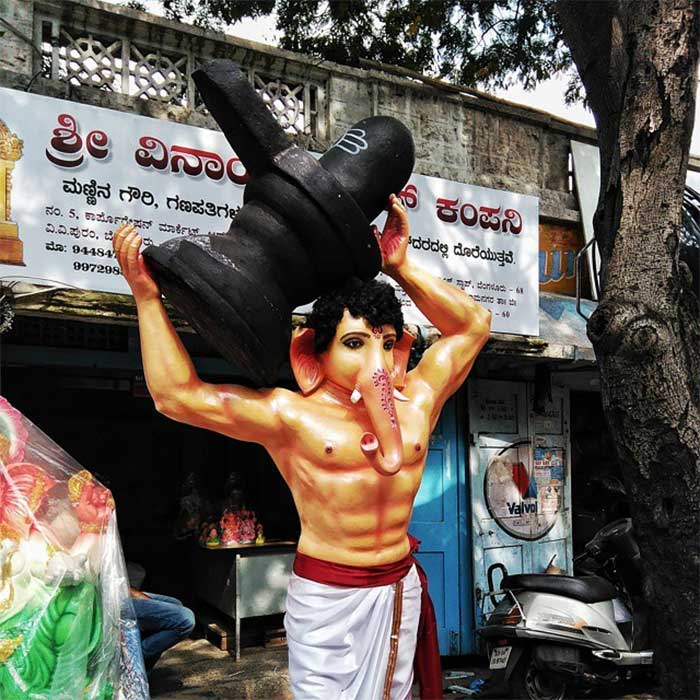 In a tweet shared by Dr. Nausheen Khan, in which it can be seen that a Muslim youth is painting a Ganesh idol in Hyderabad. Khan wrote on Twitter: "Heartwarming image. A perfect example of Religious Harmony."
Heartwarming image.
A perfect example of Religious Harmony.#GaneshChaturthi #Hyderabad pic.twitter.com/wyvQXyadaI

— Nausheen Khan (@DrNausheenKhan) September 13, 2018
Happy #GaneshChaturthi to all of uh ... !!
May bappa's blessing shower on everyone and everytime..!
Ganpati bappa Morya ! pic.twitter.com/J2sFq9Ikka

— Swati Juneja (@junejaswati1) September 13, 2018
#Maharashtra: A 126 kg modak to be offered to Lord Ganesha at Dagadusheth Halwai Ganapati Temple in Pune for #GaneshChaturthi celebrations. The modak has been made using dry fruits & silver leaf (vark). pic.twitter.com/CEQLzUfZEz

— ANI (@ANI) September 14, 2018

By Sowmya Sangam