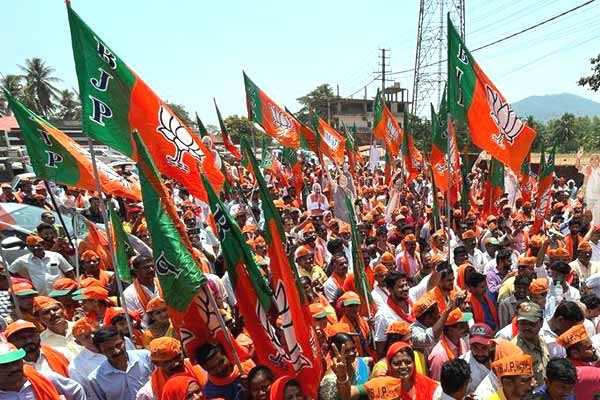 (Image source from: Twitter.com)
Bharathiya Janatha Party (BJP) has released a list of 40-star campaigners to campaign in Karnataka in favour of the upcoming Karnataka Assembly elections. The list includes Prime Minister Narendra Modi, Union Minister Amit Shah, State Chief Minister Basavaraj Bommai, Uttar Pradesh chief minister Yogi Adhithyanath and many others. BJP misses young leaders Tejasvi Surya, Pratap Simha and Yediruppa's son B Y Vijayendra, who is contesting from Shikaripura.
Missing Tejasvi Surya and Simha is the talk of Karnataka now, as they are strong motivators for Hindutva politics. There are some controversies going on in Karnataka. Few leaders are calling this election as a war between the ideologies of Tipu Sultan and Sarvarkar and stating that the election is not between BJP and Congress.
So, BJP leaders are asked to concentrate mostly on the popularity of the Prime Minister and the development they have made in the state rather than bringing in the Hindutva. Surya has to concentrate on elections of other states as he is the star campaigner for other states, Said BJP general secretary.
BJP has the list of senior leaders in their bag. Nirmala Sitaraman,Smriti Irani, Dharmendra Pradhan,Mansukh Mandaviya , Nitin Gadkari, Rajnath Singh , Pralhad Joshi and many others. While congress too released their list, where they have Rahul Gandhi, Sonia Gandhi, Priyanka Gandhi Vadra and Tharoor. DK Shiv Kumar and Jagadish Shettar are also on the list. Congress giving a tough fight to BJP in Karnataka assembly elections.