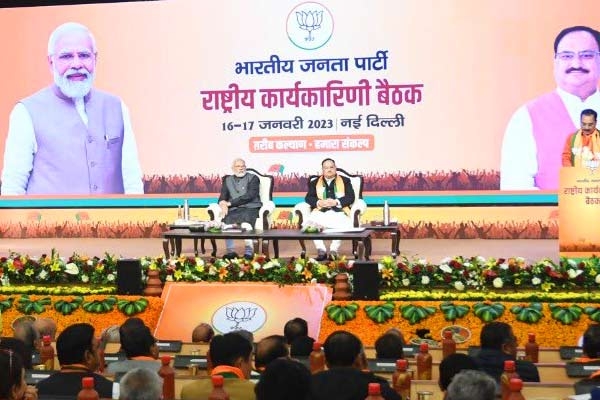 (Image source from: Twitter.com/narendramodi)
The entire leadership of BJP attended the National Executive Meeting of the party that took place yesterday. Union Law Minister Kiren Rijiju proposed a nine-point resolution on the first day of the meeting that was held in New Delhi. Uttar Pradesh's Deputy CM Keshav Prasad Maurya, and Karnataka's State Minister Govind Karjol were the other attendees that took place at NDMC Convention Centre. Nirmala Sitharaman, the Union Finance Minister said that several topics were discussed during the meeting. There was a major discussion about the derogatory remarks of the opposition parties on Indian Prime Minister Narendra Modi. There were discussions about the progress of the states of Nagaland, Karnataka, Meghalaya and Tripura.
There was a discussion about the abusive language used for attacking the Prime Minister. There are negative campaigns going on against Modi. The issues of Pegasus, Rafael deal, Enforcement Directorate money laundering, Central Vista, Economic basis-reservations, and Demonetization were discussed and these are the points where the negative campaigns are run. The issues reached the court and the judgment came in the favour of the Supreme Court. The leadership asserted that BJP will win in all the nine states in which the Assembly elections are scheduled in 2023. The National Executive Meeting will conclude today. Narendra Modi, Amit Shah, JP Nadda along with the leaders, ministers, MLAs and MPs of the party attended the meeting.
Glimpses from Day 1 of BJP National Executive Meeting being held in New Delhi.#BJPNEC2023 pic.twitter.com/sPrku6UwuX

— BJP (@BJP4India) January 16, 2023