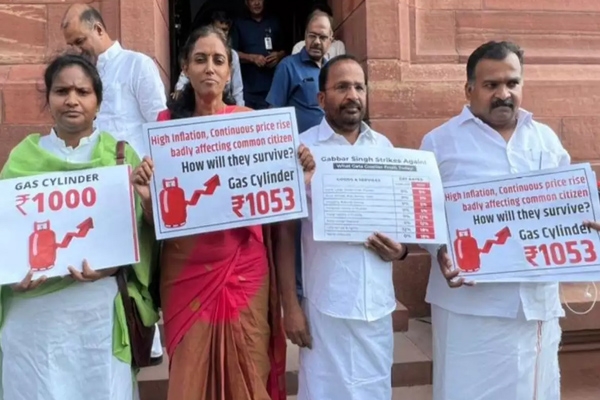 (Image source from: timesofindia.indiatimes.com)
Four Congress MPs got suspended from Lok Sabha for the entire session after they held protests along with placards in the house. Lok Sabha Speaker Om Birla issued warnings for these Congress MPs but they continued to protest in the house. Manickam Tagore, Jothimani, Ramya Haridas and TN Prathapan are the suspended MPs of the house. All the four MPs stages protests near Mahatma Gandhi statue and raised slogans. The Speaker announced that he would discuss about it after 3 PM and he asked them to remove the placards from the house. He later adjourned the proceedings till tomorrow after the Congress MPs were suspended.
The session resumed at 3 PM and it got adjourned in just 20 minutes. The Congress MPs returned back with placards and the Speaker announced the suspension of the MPs for the entire session. arliamentary Affairs Minister Pralhad Joshi slammed the MPs for their behaviour. He asked the MPs to continue the proceedings in a smooth manner. The Speaker warned several times about the placards in the house. The Congress MPs wanted the Prime Minister Narendra Modi to come to Parliament and address their concerns about the rising prices in the goods and the GST hike. The monsoon sessions of Parliament started on July 18th.
By Siva Kumar