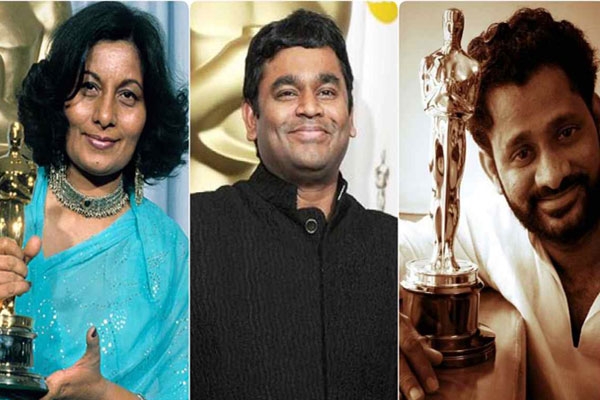 (Image source from: indianexpress.com)
An Academy Award, also informally known as the Oscars, is one of the most prestigious awards one can gain in relation to film. Each year, this award show dedicated an Academy Award to those who have shone the brightest in the film industry and present different awards for various categories including best film, best actor, actress, best costume design, best soundtrack, best animated film, best production etc. The Academy Award is generally for Hollywood films but also tackles other language films if they are exceptional. The award goes to the best out of a list of nominees. Over the years, there have been a few honorable Indians who have been nominated for this prestigious award or have even won it.
There are a total of 14 Indians who have been nominated for an Oscar out of which six have took the award home.
Here is a list of Indians who have made our country proud by bringing an Academy Award home for several categories:
1. Bhanu Athaiya - Best Costume Design
Bhanu Athaiya is a costume designer for Bollywood and Hollywood films. However, she was the first Indian ever to win an Oscar for best costume design for the film Gandhi. She won the award at the 55th Academy Awards in 1983.
2. Resul Pookutty- Best Sound Mixing
This production manager won an Academy Award for best Sound Mixing at the 81st Academy Awards in 2009 for the film Slumdog Millionaire. This film also won best picture that year and received multiple nominations and awards .
3. Gulzar - Best Original Song
Speaking of the film Slumdog Millionaire winning awards, Gulzar received an Academy Award for Best Original Song for the hit song Jai Ho which became a universal hit. This song was also remixed by multiple English and Spanish artists. He won an Academy Award at the 81st Academy Awards in 2009.
4. A.R Rahman = Best Original Song
Talk about Slumdog Millionaire taking the cup home. The music maestro A.R Rahman who has composed music for over 200 films worldwide, mostly in India had not taken home one, but two Academy Awards for best Best original Song along with Gulzar and Best Original Score for himself. He composed the entire film's background music and songs. He took home two Oscars at the 81st Academy Awards in 2011.
The 93rd Academy Awards is set for Sunday, 25th April 2021. The Malayalam Film 'Jallikattu' directed by Lijo Jose Pellissery has been selected as India's official entry for Oscars 2021. The list of nominees for the Academy Awards in 2021 have not been disclosed yet and are yet to release soon either by the first week of February or can even extend to as late as March.
By Meena Atmakuri