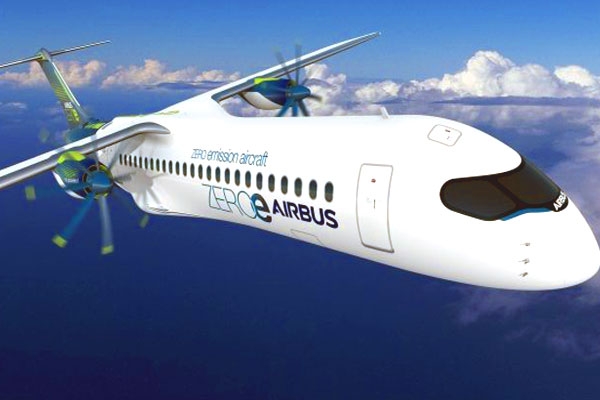 (Image source from: Ifn.news)
A historic moment for the aviation sector as it is going to see the most important transition ever with the introduction of Hydrogen-powered aircraft.
Aviation Giant Airbus on Monday announced the three concepts that would make the world's first emission-free commercial aircraft would likely enter into service by 2035.
All three concepts are based on Hydrogen that promises exceptionally clean aviation fuel which is a solution to the aerospace and many other industries to help fight the climate change that is becoming a huge problem day by day.
Airbus CEO Guillaume Faury said that this is a historical movement for the aviation sector as the company is playing a huge role in transforming the industry.
The concepts will unveil in a few days with a bold vision for zero-emission flights by 2035.
He strongly believes that the use of hydrogen will significantly benefit the aircrafts and also climatic impact by the flights on the atmosphere.
The three concepts designed by Airbus will explore and also enhance the design and the layout of the world's first zero-emission and climate-neutral commercial aircraft which the company is aiming to put into service by 2035.
The transition of aircraft fuel to hydrogen as a primary source for the aircraft to run will need a decisive action from the entire aviation ecosystem.
With the support of governments and the aviation industry, Airbus aims to rise up this challenge to scale up the use of renewable energy and hydrogen for the betterment in aviation sector and also the environment.
Aviation emissions are a major contributor to the significant increase in anthropogenic climate change according to the researchers at Massachussets Institute of technology (MIT).
Aviation industry contributes to 5 percent of the total climate change being experienced by the world.
The emissions released during the take off of a flight and during the landing are responsible for 16,000 premature deaths in a year due to impaired air quality.
Hydrogen, on the other hand is a clean fuel which emits only steam.
The three concepts being developed by teh Airbus are called 'Zeroe' which include a turbo fan design and a blending wing body along with above 2000 nautical miles.
Blending wing body technology is the one in which the wings merge within the main body of the aircraft with a range similar to that of a turbofan concept.
There will also be a turbofan design which uses a turboprop engine which will be powered by the hydrogen combustion in the modified gas turbine engines.
This combustion will let the airplane travel up to 1000 nautical miles making it a perfect option for short trips.
To handle these significant changes, aircrafts and aviation sector will need more hydrogen transport and refueling infrastructure to meet the needs of the day to day operations of the companies.
- By Gayatri Yellayi