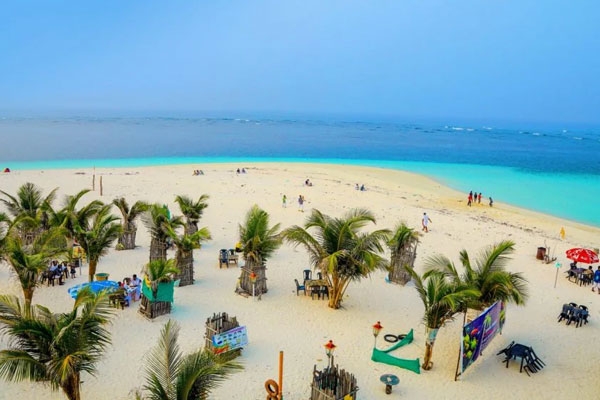 (Image source from: cnbctv18.com)
The three big reasons would definitely be accurate, screening, immense testing, and immediate quarantining.
The coronavirus outbreak continues to spread havoc among all states in India. At present, the country is registering at least 90,000 fresh positive cases per day which is unprecedented.
However, Lakshadweep is presently out of the list of states and UT's reporting daily cases.
An island, which is far away from the capital cities of Delhi and Mumbai, Lakshadweep which is also India's smallest union territory has recorded no coronavirus case officially so far.
The coronavirus pandemic is almost 7 months old in India but with Lakshadweep registering no single case yet is commendable.
So, what do you think did this archipelago of 36 islands did to keep itself away from this virus?
Do you think this natural gift of being geographically isolated with the rest of the country has proven to be a boon to Lakshadweep?
Take a look at our take on this.
How has Lakshadweep managed to keep COVID-19 at bay?
Lakshadweep's population is not more than 64,000 people. This could be the major reason that the archipelago could have evaded the virus.
An elaborate mechanism of screening potential candidates, testing them, and isolating them would become an easy task with this count of the manageable population.
A doctor based in Lakshadweep's Minicoy island said that the island has put a stop to the influx of outsiders including international passengers way back which helped them in staying away from the coronavirus.
During the period of March to May, there was an influx from the mainland. This is because a lot of students, employees and others from Lakshadweep are residing in Kerala and other parts of the country to earn their bread and butter.
The doctor said that managing to get back them was a hectic job but they could successfully do it.
According to the administration of Lakshadweep, the pre-boarding screening of passengers by air or water has started very early in February itself when India has just started reporting cases in single numbers.
Meanwhile, in the other parts of India, the international screening of passengers has started in March.
A resident of the island said that the administration has taken a risk by getting back troop of people at a time who have stuck in other states of India but that calculated risk has proven to be successful.
Meanwhile, timely measures have also been introduced in the Union Territory of Lakshadweep by making the testing compulsory and bringing down the number of entry points for the passengers.
Before a person boards the ship from Kerala or Kochi to Lakshadweep, he/she must carry a negative COVID-19 report and upon entering the UT mandatory 14-day quarantine will be imposed.
The UT has imposed a lockdown for just 21 days where no shops were open, and there was no transportation.
At present, few restrictions on group gatherings are still in place.
If in future, the UT records a positive COVID-19 place, it is likely that it would spread fast and the entire territory would be completely shut down to eliminate the risk.
The UT has only three hospitals and only a handful of health care centers. So, Lakshadweep needs to be very careful and watchful in these challenging times.
By Gayatri Yellayi