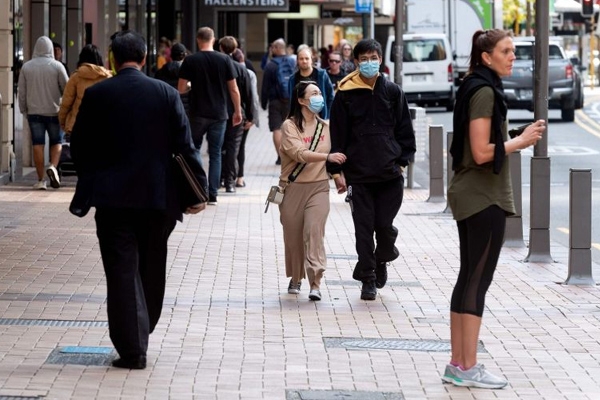 (Image source from: straitstimes.com)
Four members of a family in Auckland got infected with the virus 3 months after the country reported 0 cases.
While New Zealand officials are struggling to find out the source of the new outbreak of coronavirus, health workers and public are rushing to the medical centres to test themselves for COVID-19.
The discovery of 4 new infected cases in Auckland City of New Zealand has shocked the country that has been proudly portraying to be the only country with zero cases since there months. The public are raising questions now on the way the government has tackled the COVID-19 outbreak.
New Zealand on Thursday announced that the country has reported 14 new coronavirus cases in the community with the total number of active cases reaching to 36.
Prime Minister Jacinda Ardern had immediately reimposed tight movement restrictions in Auckland and social distancing measures across the rest of the country, echoing her response to the pandemic which was praised for her effectiveness.
However, doubts over the origin of the newly reported cases have raised doubts on the Prime Minister's COVID-19 strategy.
Officials of Auckland had said that there more people at a refrigerator facility where one of the family members works had tested positive for the novel coronavirus on Thursday.
Director General of Health Ashley Bloomfield had told the media that the government is working to find out the patient zero of the outbreak to know the origin.
Bloomfield had raised the possibility of the outbreak in New Zealand through freight as one of the infected family members works at a refrigerator store that takes imported frozen goods from overseas.
He considered it to be a low possibility but he cannot think of any other sources of origin as of now.
Some prominent local health experts are saying that the virus had been quietly spreading in Auckland for weeks infecting dozens of people.
Auckland, which is a home to around 1.7 million people was given just hours time to return to level 3 restrictions after the new cases were reported. The residents are asked to stay at home unless it is an emergency.
People in the Auckland City thronged supermarkets for essentials and have reported waiting time for themselves to get tested for the virus.
The rest of the country is placed into level 2 restrictions until Friday when the Prime Minister will announce the next step to tackle the outbreak.
With the election scheduled just a week away, the Prime Minister Ardern is facing criticism from the opposition parties for her decision to resume lockdown measures.
The NZ National party wants the election to be pushed to November from September. Ardern too said that she will make a decision on this before Monday.
By Gayatri Yellayi