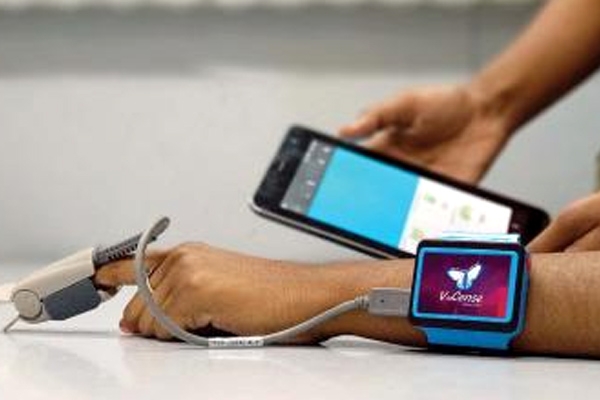 (Image source from: amazonaws.com)
A health care start up at IIT Madras is providing affordable and accurate health monitoring device that checks temperature, heart rate, respiration rate and oxygen saturation of COVID-19 patients.
As the COVID-19 cases are rising across the country, the need for miniature devices that can detect health parameters like heart rate, body temperature, respiration rate, and blood oxygen level has also been rising.
Recently, a startup at IIT Madras has come up with a wrist wearable health monitoring device and is providing it to government and private hospitals across the country. The device has been made indigenously at the Indian Institute of Technology, Madras.
The startup at IIT Madras has taken the help from HELYXON in developing the device and has named it as OXY2 which are now commercially available in India. This health device serves as a remote health monitoring solution and as is said to act as a force multiplier in the health care system.
OXY2 is a completely portable, wireless and can be clipped to patient's finger and the data can be streamed in a mobile phone via Bluetooth or through internet.
The temperature of the person will be measured at the arm pit while the remaining parameters can be measured at the finger.
The health monitoring device, OXY2 is powered by a coin-cell battery and will act as a replacement to large patient monitors that are used at hospitals that cost 1 lakh rupees.
While there are many such miniature devices in the market, the makers of OXY2 claim that their device gives accurate results. With remote monitoring, the doctors and healthcare staff can test the patients with the device without even getting nearer to the patients.
OXY2 has been priced between Rs.2500 to Rs. 10,000 depending on which parameters the device would test and its configuration. The device can be used at home, COVID care centers, hospitals and any other places. Once a patient wears the device, it shows the readings of the health parameters when connected to a mobile phone, Android or IOS through an app.
It can measure data of thousands of individuals and there is an option to fix threshold of the parameters and in case of a breach it can be notified to emergency contacts.
Professor Sivaprakasam of IIT Madras said that OXY2 is a CE certified safe and non-invasive electronic device.
He also said that the device can be used by COVID-19 patients, vulnerable groups and also those who have recovered from the virus without having the risk to visit a hospital for all these checks.
By Gayatri Yellayi