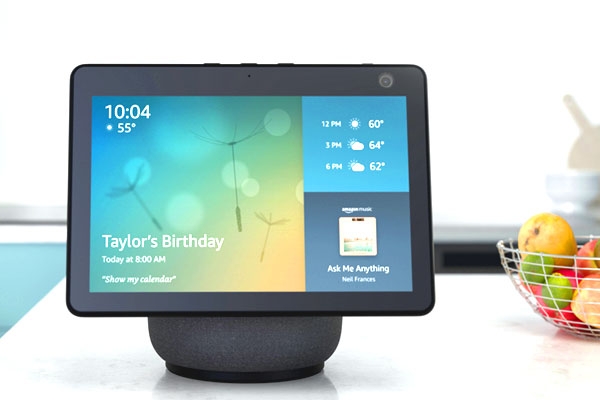 (Image source from: sg.glbnews.com)
The echo show 10 follows you as you move around while keeping you on track on whatever is being displayed on the screen.
The echo show 10 uses a computer vision to follow your movements and then combines this data with the audio location whenever you say 'Alexa'.
It does not uses the face recognition technology but uses an image to create the data points that represent shapes and edges.
Moreover, the device will only move when you interact with it whether by touching the screen or saying Alexa or even watching the video.
You can disable the echo's motion by shutting down the built-in camera shutter in the Alexa app.
The echo show 10 was built with sustainable materials that include 100 percent recyclable fabric and aluminum.
It has a 10-inch display with an HD resolution. You can also manually tilt the echo's screen to adjust the position. It has a two-side speaker along with a woofer and gives you noiseless sound.
Echo show 10 does the voice processing on the edge or locally without having the need to store data on the cloud computer.
This feature allows the echo to show 10 to respond faster and accurately.
Some of the other hardware features of this device include Zigbee, Bluetooth LE, sidewalk network, and devices with automatic provision.
Show 10 will support the Alexa guard security feature that protects the device and your home when you are not at home.
It detects a person when you are not at home and sends alerts to your smartphone.
Netflix will also be available on this device along with Hulu and Prime Video.
The device also features a low power mode that saves the energy of the device overnight or when not in use.
If you are using the Alexa guard with the Show 10, the low power mode will not turn on.
Amazon is pricing the new Echo Show 10 at $249, slightly higher than the previous version.
But, as Amazon loves to introduce offers and discounts the price of this echo could come down drastically.
- By Gayatri Yellayi