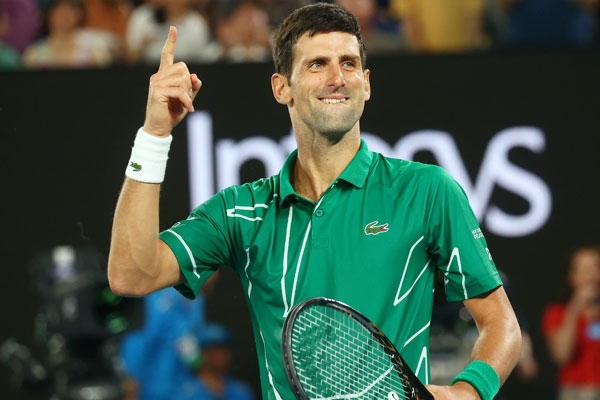 (Image source from: essentiallysports.com)
Popular Serbian tennis player, Novak Djokovic is worried about the covid-19 vaccine if it becomes compulsory for all the players across the world. The world number said that he is worried that he will have to get vaccinated compulsory in order to resume his games following the covid-19 outbreak.
"Personally I am opposed to vaccination and I wouldn't want to be forced by someone to take a vaccine in order to be able to travel," Djokovic said in one of his live Facebook chats.
Djokovic said that in case it become compulsory, he has a few thoughts in his head that he is planning on following but whether or not the same is going to change in the coming days is a matter of question at this point.
"Hypothetically, if the season was to resume in July, August or September, though unlikely, I understand that a vaccine will become a requirement straight after we are out of strict quarantine and there is no vaccine yet," he further stated saying.
Just last month, former number one Amelie Mauresmo said that it is likely that the entire 2020 Tennis season is likely going to be wiped out, and even when it does resume, it is likely that the players will have to get vaccinated on compulsion.
Medical experts have highlighted the fact saying that the vaccines are not likely going to be developed before early next year. This has raised doubts in the minds of the people on whether or not there is going to be any tennis season or tournament happening this year around.
The Wimbledon of this year has already been cancelled, the first time since the World War II. The French Open, on the other hand, has been rescheduled from May24-June 07 to September 20-October 04. It is going to be held after the U.S Open.
Djokovic has made a bright start to the 2020 season by winning the Australian Open for the 17th Grand Slam title. He even won around 18 matches in the starting of the year before the coronavirus put a halt to everything.
Both the 2020 Tokyo Olympics and the Euro 2020 soccer championship have been postponed until further notice. All the tennis tournaments and possible matches have also been cancelled until July 13. Even the women's Rogers Cup that was supposed to take place in March is likely not going to happen as well.
By Somapika Dutta