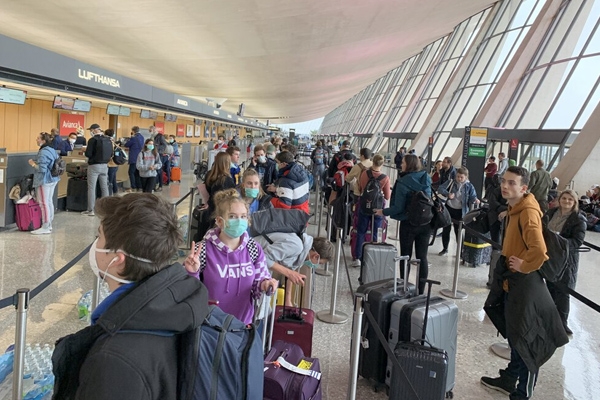 (Image source from: austria.org)
Following the sudden upside down that the entire world is experiencing because of the virus, United States administration has decided to begin the process of repatriation of their nationals back to their country from India.
India being on a 21-days lockdown has imposed strict regulations on their flight movements, completely cutting off any and every kinds of international and domestic flight movements.
This repatriation from India is believed to be a huge effort by the US government to bring back their stranded US citizens to their home country during this time of crisis. Till now, US has already repatriated over 30,000 US citizens from across 60 countries.
Principal Deputy Assistant Secretary for Consular Affairs Ian Brownlee stated saying, "We began our repatriation efforts from India yesterday with a flight that brought in some 170 U.S. citizens."
Brownlee further said that they are going to initiate a steady stream and flow of flights out of New Delhi as well as Mumbai in the coming days to ensure maximum impacts in helping get their citizens back to the country before the end of the week.
The country has already planned for over 80 flights for the process which will be set off from various locations for the citizens.
Even though Brownlee didn't necessarily want to indulge in whole figures, he has mentioned saying that there have been pleas from thousands of US citizens from India who have urged their government to repatriate them from the country. They have looked into the process and will start it pretty soon.
Brownlee further stated saying, "We have found the Government of India has been very cooperative and very helpful with us in arranging these repatriation flights. We are thankful to them for their assistance and their support as we undertake this important mission."
When trying to do the same in Africa, US has faced a bit of a problem, mainly because of the closure of the air spaces there. Out of the 57 international airports in the United States, 30 of them are either restricted at the moment or have been non-operational. This is the reason why the process of repatriation has been a lot more difficult.
US already has 20 million people who stay overseas. But, William Walters, Deputy Chief Medical Officer for Operations, Bureau of Medical Services in the State Department stated saying that the State is doing everything in their power to ensure safe return of every one of the residents back to their home country.
Walters further stated saying, "But as the COVID-19 situation develops, our ability to provide such assistance, whether working with commercial airlines or arranging for evacuation flights, may become more limited or even unavailable."
Even Brownlee emphasised on the fact saying that is any of the US citizens want to return to America, now is the time for them to contact the authorities and the nearby US embassy to get that sorted out for themselves.
Following that, Browlee warned saying, "There's no guarantee the Department of State will be able to continue to provide repatriation assistance, and transportation options from many countries to the United States may become unavailable in the future, even in a few weeks' time."
He asserted that since the situation is so unpredictable, any kind of sudden changes won't be entertained by the government. If someone wishes to return, they need to make the decision now and take the necessary steps to get that sorted out for themselves before they get stuck there for the foreseeable future in the respective countries that they are in.
By Somapika Dutta