Narendra Modi Claims He Used 'Digital Camera, Email in 1980s', Gets Slammed by Critics
May 13, 2019 18:10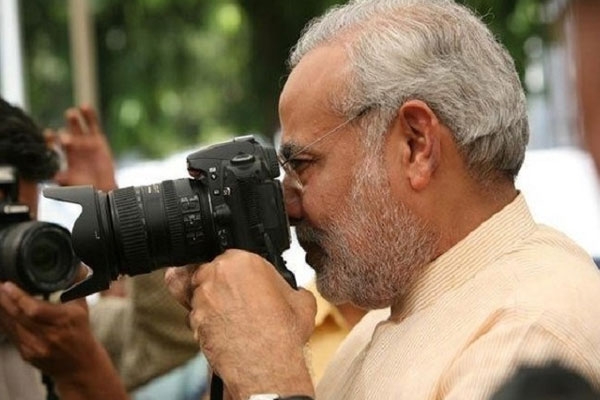 (Image source from: newsroompost.com)
After facing flak for 'cloud cover' remarks on the Balakot strikes, Prime Minister Narendra Modi is once again receiving criticism after he claimed to have clicked a photo of a senior Bharatiya Janata Party leader Lal Krishna Advani in the year 1987-88 using a digital camera which he owned.

Modi, during an interview with News Nations also claimed to have sent that photo by e-mail.

However, the claims furthered Twitter users to mock him.
This man is an incredible liar, digital camera in 1988, email in Mumbai in 1988. Man says whatever comes to his head. pic.twitter.com/Fd0bZytS9D

— Bottomlinesman(@chulbulThurram) May 12, 2019

The critics pointed out that Nikon sold its first digital camera only in 1987. Some social media users even claimed such digital cameras would have been exorbitantly priced in India and used the comment to ridicule Modi's frequent affirmations that he had risen from poverty.

Other social media users pointed out that state-owned telecommunications company VSNL had started the first internet service in India for the public in 1995. Email and internet services in the 1980s were mostly restricted to research and academic institutions, they added.

Divya Spandana, head of social media operations for the Congress tweeted saying: "The question is even if he did have an email id in 1988 when the rest of the world didn't, who was he sending emails to?..". In another tweet, Spandana played a pun on the name of the popular United States technology company AOL, a pioneer in provision of public internet services. She wrote, "Any guesses as to what @narendramodi email id was in 1988? This email address is being protected from spambots. You need JavaScript enabled to view it. is my guess"
Any guesses as to what @narendramodi email id was in 1988?
This email address is being protected from spambots. You need JavaScript enabled to view it. is my guess https://t.co/iVnSHtGsIn

— Divya Spandana/Ramya (@divyaspandana) May 12, 2019
Modi invented Digital camera, EMail, like gas from the gutter & clouds which could not be penetrated by radars. Ask any Bhakt. https://t.co/sPrmrSaFmZ

— shahid siddiqui (@shahid_siddiqui) May 13, 2019
So the @narendramodi interview with @NewsNationTV was *badly* scripted just like his other interviews,but here's proof!Pause the video at 3 seconds & take a good look, it has the question & *ahem* the answers too!Now you know why no press conference or debate with @RahulGandhi pic.twitter.com/6zgQsQTt2F

— Divya Spandana/Ramya (@divyaspandana) May 12, 2019

Spandana shared a screenshot and video clips, claiming, "Pause the video at 3 seconds & take a good look, it has the question & ahem the answers too!Now you know why no press conference or debate with @RahulGandhi".

By Sowmya Sangam