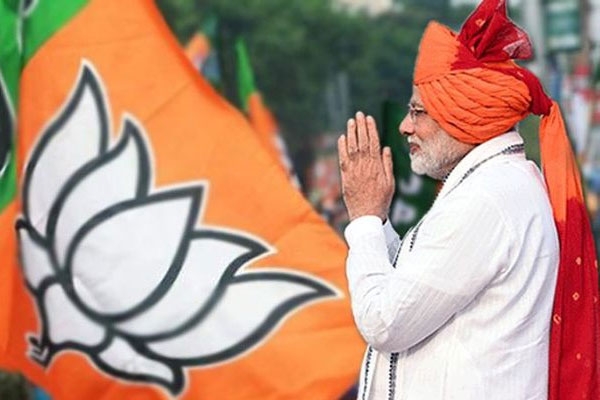 (Image source from: asianetnews.com)
Bharatiya Janata Party has finalised the slogan for 2019 Lok Sabha Election and it is "Modi Hai to Mumkin Hai" – 'Modi makes it possible', Arun Jaitley said on Thursday.
In the Facebook post titled 'Agenda 2019 - Part-4' Jaitley said that Prime Minister Narendra Modi has demonstrated during the last five years his indefatigability by literally working round the clock."
He said PM Modi as a quick learner, adapting easily to foreign policy, economic and strategic issues, his clarity and determination have facilitated quick decisions making even in complicated matters.
"On policy issues, he sits for hours together with his team, Ministers and officers of various departments of the Government and takes decision in relation to important matters. He sets targets only to beat them." he said
His image as a doer is now recognised by most Indians. Many India observers across the world have marvelled with India's pace of taking decisions and implementing them. The BJP, therefore, has chosen an effective slogan for the forthcoming elections "Modi Hai to Mumkin Hai" – 'Modi makes it possible', jaitley said
He mentioned some of the achievements of Modi led NDA government, said for the first time in history, for five years in a row, India has been the fastest growing major economy in the world – a 'sweet spot' in the global economy.
"It is both the motivation and the leadership which made the vital difference. It is precisely for this reason that India will witness an election where the people will get an opportunity to endorse Prime Minister Modi's leadership, decisiveness, integrity and performance. Indeed he makes it possible," the minister said.
Arun Jaitley also said that under leadership of Prime Minister Modi, India has demonstrated, both through the Surgical Strikes of 2016 and Air Strikes of 2019 that rather than merely dealing with terrorism within the country will not suffice. It is willing to adopt unconventional methods of attacking terror at the point of its origin.
Other achievements of the government he mentioned are 10% reservation for the economically weaker sections, Bankruptcy and Insolvency Code (IBC), 100 percent electrification of all households, 91% of all villages are connected with rural roads, Ayushman Bharat Scheme, the smoothest implementation of the Goods and Services Tax, Providing cooking gas stoves and cylinders to 8 cre BPL households, he said
"The above are only an illustrative list of the kinds of strides India is making. Has any Government done more? It was the same Governmental machinery, the same political system, the same implementation instruments that the Government had at its disposal," he added
By Sai Kumar