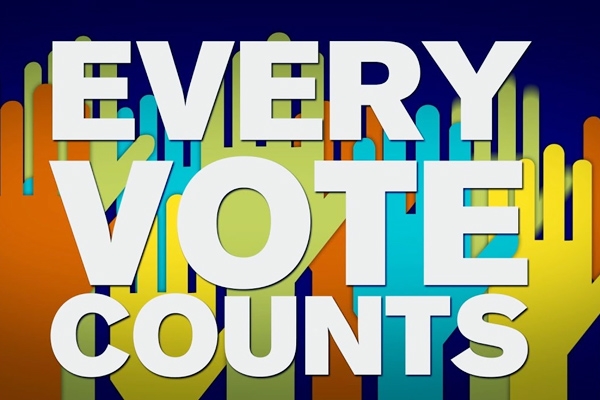 (Image source from: Roselawgroupreporter.com)
The Telangana Assembly Elections is scheduled to take place on December 07, 2018, and Telangana people across the world are absolutely making an effort to ensure that their political party is successful.
Related content: Telangana Polls: Reasons Why It Won't Be a Cakewalk Win for TRS
During the T20 finals in Sydney between India and Australia on Tuesday, a placard painted in green read: "Vote for AIMIM. Vote For Kite. Best wishes from Kangaroo Developers and Builders. Branches in Hyderabad, India, and Sydney."
Telangana diaspora's growing interest in the politics of the state is plainly evident from the message. NRI (Non-Resident Indian) supporters of all major parties, including the TRS (Telangana Rashtra Samithi) and the BJP (Bharatiya Janata Party), are doing their bit for imminent Telangana assembly elections.
Related content: KCR Scared of PM Modi Because of His Corruption: Rahul Gandhi
Placards supporting TRS, too, were spotted during some matches in Australia. The TRS recently launched its NRI campaign with a core people from New Jersey, Pennsylvania and Delaware attending its first meeting. Its coordinator, Mahesh Bigala, spoke about the State government's development activities.
A few days back, the TRS campaign "war room" in Denmark was launched through Skype. 
Many BJP supporters from the United States of America also voiced their support for the party. "We will work for the development of Telangana the way PM Modi developed the BJP without corruption, nepotism and without discrimination," Krishna, a resident of New Jersey said.
Related content: PM Modi Pours Scorn on TRS Government at His First Rally in Telangana
A Telugu from Texas Express got in touch with urged Telanganites to vote for the BJP and to help it win by a big margin. The diaspora's most creative campaign, up to now, was done by the United Arab Emirates and Saudi Arabian leg of the AIMIM (All India Majlis-e-Ittehadul Muslimeen) party. They organized 'Asaduddin Owaisi Football Cup' in Jeddah.
A supporter said: "The event was prepared with the intention of supporting our community and strengthening the party in the elections."
-Sowmya Sangam