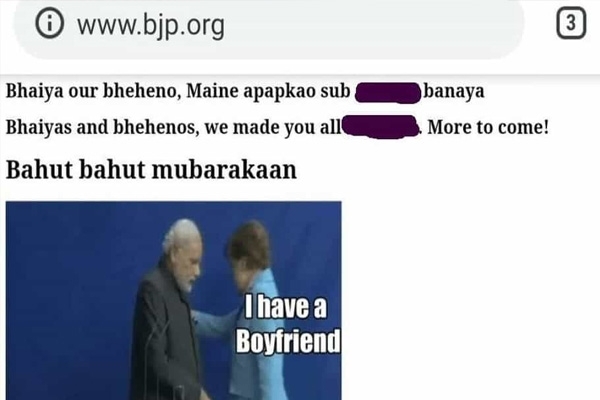 (Image source from: NewsCentral24x7.Com)
The official website of the Bharatiya Janata Party (BJP) was hacked early on Tuesday morning and is currently on maintenance mode.
The hackers featured memes on Prime Minister Modi, which in no time went abuzz on social media with screenshots.
The BJP website has been hacked!https://t.co/xYj6O1eio6 pic.twitter.com/R1AHDg0IeW

— Ankur Bhardwaj (@Bhayankur) March 5, 2019
Hello #ITCell on #BJP your official website hacked today pic.twitter.com/T9pu8xjCAV

— Elliot Anderson (@fs0c13ty_) March 5, 2019
But, while trying to open the website, it showed the message saying: "We will be back soon! Sorry for the inconvenience but we're performing some maintenance at the moment. We'll be back online shortly."
The website of the country's ruling political party stopped functioning amid brewing tensions between India and Pakistan following the Pulwama terror attack in Jammu and Kashmir in which 40 Central Reserve Police Force personnel were killed.
Within hours of the Pulwama attack, Pakistani-linked hackers reportedly attacked nearly 90 Indian government websites, leading India to initiate counter-offensive measures in cyberspace.
In the same week, Pakistan's Ministry of Foreign Affairs website was not working in several countries including the United States.
Pakistan's Foreign Office spokesperson Mohammad Faisal alleged that New Delhi was behind the attack.
According to a report in the Dawn, cross-border hacking attacks have been sporadic yet common since at least 1998.
करारा जवाब मिलेगा
Whoever has done this to @BJP4India ....We will enter their servers and give a befitting reply#BhaktBanerjee pic.twitter.com/Udr64ASSwE

— Akash Banerjee (@akashbanerjee) March 5, 2019
BJP can't prevent their own website from getting hacked and are governing a nation of '6 billion' people. #NamumkinAbMumkinHai pic.twitter.com/uQDLgJC9s2

— Supariman™ (@SupariMan_) March 5, 2019
By Sowmya Sangam