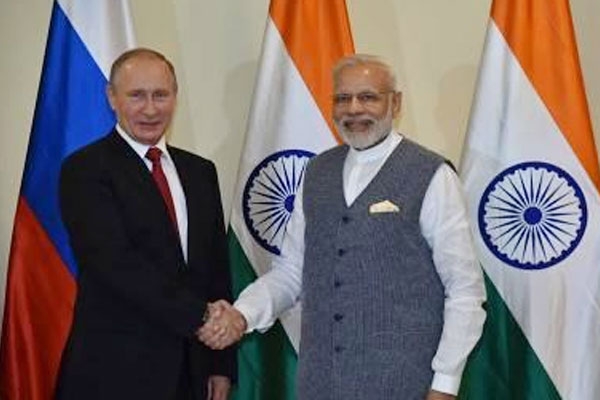 On Thursday, the Indian Prime Minister Narendra Modi has held a wide-ranging talks with the Russian President Vladimir Putin regarding the nuclear power deal for two additional nuclear reactors at Kudankulam.
For the past eight months, Moscow has been pushing India to sign the agreement with Russia's Deputy PM Dmitry Rogozin by taking up the issue with Modi, in the meeting ahead of the summit. Russian Officials have described the success of the agreement as the biggest takeaway from the summit.
Earlier, the agreement has missed two deadlines. Modi said that the finalisation of the agreement will improve the cooperation in civil nuclear energy between both countries.
Apart from the agreement regarding the nuclear reactors, both the countries have signed other four agreements.
The two countries have strongly condemned the terrorism in a joint declaration and also stressed that there will be no justification for any acts of terrorism.
"Together, we will continue efforts to combat international terrorism, which poses a great threat to the maintenance of peace and security. We are convinced that the unprecedented spread of this threat requires a decisive collective response on the part of the entire global community, without double standards and selectivity, in accordance with international law and the UN Charter," the declaration said.
Modi also invited the Russian companies to partnership with Indian firms in setting up the manufacturing facilities to make a high-tech defence equipment in India.
Addressing the CEO's of both the countries after the annual bilateral summit in Russia, Modi said that, in the last month, India had approved a policy to allow the local private companies to work with the foreign players in an attempt to manufacture the defence equipment in a bid to cut dependence on imports.
"India is the sixth biggest manufacturer in the world and we want to raise the share of manufacturing in GDP from 16% to 25%," Modi said.
The government has also approved a strategic partnership in defence between Indian and other foreign companies, Modi said.
Narendra Modi Eyes On Nuclear Power Deal; Visits Russia
Mrudula Duddempudi.