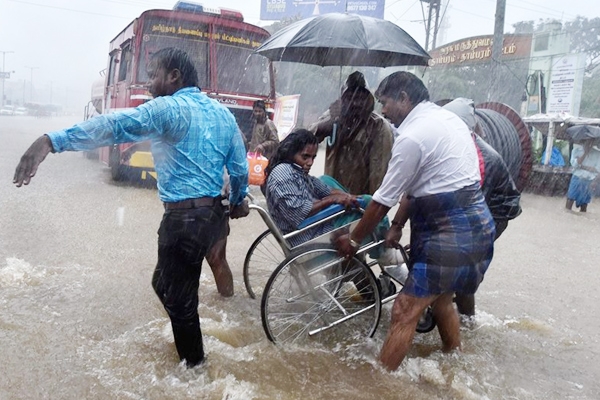 (Image source from: Tamil Nadu Flood Relief Ground Report first five days – Sewa International})
During Nov-Dec, 2015, the Coromandel Coast of South India, spanning Puduchchery, Tamil Nadu, Andhra Pradesh, received incessant heavy rainfall during the annual northeast monsoon. Tamil Nadu experienced the worst floods in a century, with 60% of its capital city Chennai submerged. An estimated 20 million people are affected, 2,500 villages waterlogged and more than 300 lives lost.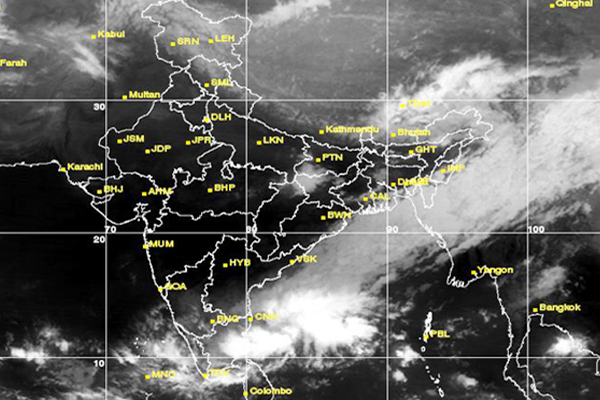 Rains in Chennai have hit a 100-year record with a rainfall of month's average covering in just a day. Particularly, South Indian state of Tamil Nadu is reeling under the flood water. Lakhs of people faced acute shortages of essentials like water, milk, power, and food items as well, in the worst hit areas. On the top, intermittent rains threatened to revive the ghost of floods again. These floods in Tamil Nadu will remain in memories of lakhs of people for many reasons like affecting daily life, industrial output, price trends, transportation, travel, tech companies and so on.
During this time of hardship, where floods at Tamil Nadu made news continuously, several organizations, trusts, companies, industries, and even individuals from eminent personalities till common man are lending their helping hand by taking active part in relief activities. One such organization is Sewa USA
Without resorting to any international first responder help more than 1.1 million people were rescued by 4,000 local volunteers from Sewa and its partner organizations - Seva Bharathi Tamil Nadu, and ABVP Tamil Nadu, among others.  Total losses are estimated at $3 billion, of which $1 billion is in Chennai alone.
Rescue Operations from Sewa International
More than 4,000 volunteers from Sewa International and its partner organizations swung into action immediately for rescue operations in many parts of rain flooded Chennai as well as other affected regions of Tamil Nadu. Of the rescues, notable is His Holiness Vidyatma Theertha Swami Ji who was stranded in Anakaputhur with his disciples.
Hundreds of tons of supplies – food, water, rice, utensils, mosquito nets/coils, cleaning supplies (phenol, buckets, mugs, brushes, bleaching powder) – have been delivered from neighboring states of Andhra and Karnataka by our volunteers to Cuddalore, Chidambaram, and Chennai.
Sewa International has formed different teams and working in different areas to assist various people who need help on ground. Based on a tweet, our volunteer, of rescue team Ratnesh Mishra of Phoenix, AZ alerted our volunteers in Chennai about a woman in labor pains. The lady got timely help from Sewa volunteers on the ground. She delivered twins. We are happy to report the mother and child are in good health. With timely assistance from Sewa volunteers on the ground in Chennai woman delivers twins!!!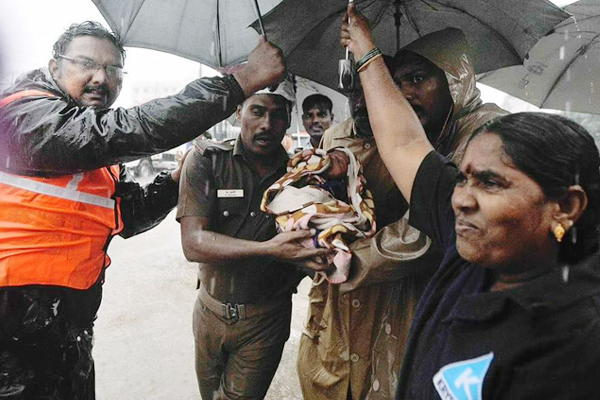 Relief Operations
Relief materials from other cities were transported to Chennai and were distributed at Thiruneermalai, Maduravoyal, TB Hospital, Tambaram, and Chromepet. Volunteers prepared food packets and distributed to Choolaipalam, Dr. Kanu Nagar, Chetpet, and Mylapore areas. For instance, over 1700 food packets, 100 biscuit packets and 400 water packets have been distributed in one day, just in one area. This really a hug approach showing up their humanity when it required to most.
Many people are wearing same clothes for the last five days and have lost everything in their house such as groceries, bedding, furniture, clothes, personal items and school supplies. Hundreds of volunteers are cooking food, collecting & buying materials and sorting it out, making packets and distributing truck loads of materials for the needy. At the Hanuman Temple, Mambalam, Ashok Nagar, the team is feeding 2,000 people twice a day, for instance. This is humanity at it's best! Not only humans but cattle are also being fed. This is the land of India, a country where all living beings are loved and respected.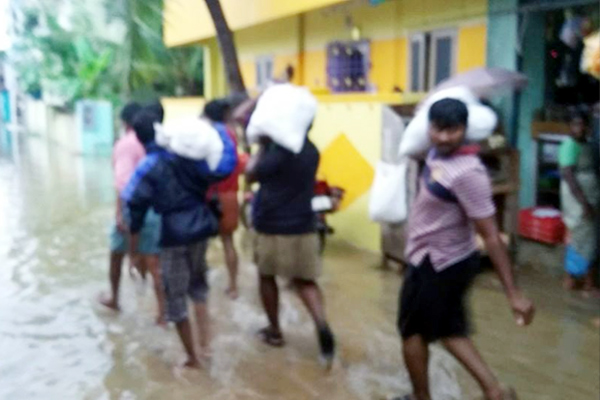 Medical Relief
Medical relief is the need of the hour in the flood-hit areas, where virtually no land is seen without flood water. What else could be best place for microbes to breed and diseases to spread? With the intermingling of sewer waste with the flood water, water borne diseases and virulent fevers have begun to affect the most vulnerable - the very young and the very old. Lack of potable drinking water is straining the system.
A 50 strong team of 50 doctors, 12 medical & pharmacy students from various parts of Tamil Nadu and Karnataka have poured into Chennai to offer their help. A total of 10 teams were formed and they went around to conduct 40 camps in various parts of Chennai. About 100,000 affected people were examined and required help was extended. The doctors spoke at length about general hygiene to be practiced and also recommended the use the Auyrvedic Maha Sudarshana tablet to help boost immunity levels.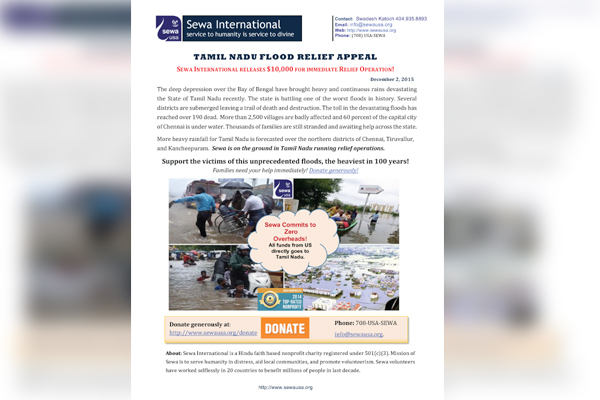 Sewa Appeal
In the ancient Indian language of Sanskrit, Sewa means Service - a unique concept of Service - Selfless Efforts for Welfare of All. Sewa International USA is a Hindu faith-based humanitarian non-profit service organization. Our Vision is to increase civic engagement of the communities in the United States to volunteer and promote volunteering.
The organization, which is doing its part to the society and humanity, is seeking more hands to support the noble cause. Be a part of it Be a human!
•    Sewa International has already released $25,000 for immediate relief.
•    Sewa International raised $90,000 in the first five days.
•    Sewa will continue to engage for several months through the rehabilitation phase.
"We commit that 100% of donations will be used for beneficiaries of Tamil Nadu floods with ZERO % overheads" - Sree Sreenath, President of Sewa International
In this hour of need, Sewa urges everyone to donate generously.
Online: www.sewausa.org/donate
Select Tamil Nadu Floods in the projects dropdown
Check: Make to "Sewa International" and mail to: Sewa International, P O Box 820867, Houston, TX 77282-0867
To Donate Click on the Link www.sewausa.org/donate