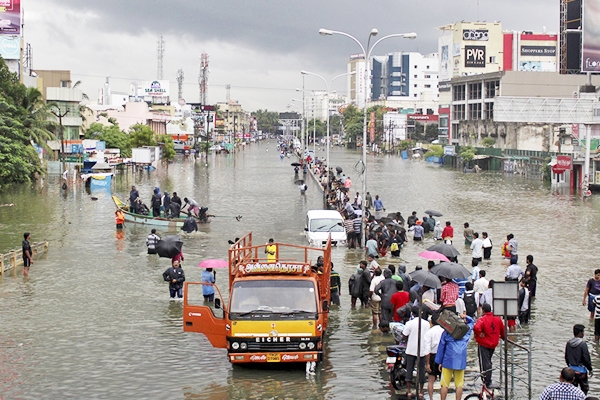 (Image source from: Chennai floods)
After the devastating rains, now that the rains have slowed down, the focus has shifted to relief. The National Disaster Response Force has now shifted its focus from rescue to relief work and with the aim to persuade people to leave their homes and move to safer areas.
"We have stepped up our deployment in Tamil Nadu and surrounding areas. A total of 50 NDRF teams is here and this is so far the most massive deployment in any flood related situation," NDRF DG OP Singh said.
"We are trying to step up our activities, especially where it's still waterlogged. We are also persuaded people to leave their homes so we can evacuate them safely. We are also using social media extensively, our helpline is working very effectively and we have inducted a number of technological driven operations," Singh added.
"Flight operations from Chennai airport will resume partially from tomorrow. The flights will operate during the daytime," Airports Authority of India (AAI) Chairman R.K. Srivastava said.
"Chennai Aerodrome has been closed up to 12 noon of the December 6, 2015. The situation is being closely monitored and any further action will be taken subject to review for resumption of services as soon as possible," the AAI, which runs the airport, had said on December 2. Technical flight services have started from rain-hit Chennai airport where the operations were suspended on Wednesday due to flooding.
"We have started technical flights from Chennai airport. But we are unable to resume commercial flights as the basement of the airport is still waterlogged and power supply of the terminal building has not been restored completely. It might take at least 2-3 days to clear the airport for operations," the Minister of State for Civil Aviation said.
V. Raghunathan, 60, a manager at an interior design company living in southern Chennai, complained about the lack of warning before flood gates were opened on some of Chennai's 30 waterways.
"The authorities didn't give us adequate information about water being released from a nearby lake. Before we could take action my car had sunk and I had to move to the first floor of my apartment."
Jose Sebastian, the head of a local construction company, said the biggest worry for his volunteer group was, areas where the water level is too high, for them to deliver food. "We feel rather helpless," he said. "We have lots of food, we have volunteers ready to go, but we don't have the boats."
By Premji