Delhi Daredevils finally ensured that they lived another day in IPL, as they beat Sunrisers Hyderabad by six wickets in Feroz Shah Kotla, Delhi.
After an embarrassing loss to Kings XI Punjab last week, the team improved their performance in the batting department, ensuring that they managed to chase down a 186-run target against Hyderabad.
This was the first victory for Delhi after losing five consecutive matches. Delhi skipper Karun Nauir played some exquisite shots as he scored 39 off 20 balls, which set an early foundation for the team.
The favorites were Sunrisers, as Yuvraj Singh scored 70 off 41 balls, but Delhi batsmen displayed some fearless strokes that made Delhi believe that they could chase down the total.
Rishab Pant's 34 off 20 and Middle-order batsman Shreyas Iyer's 33 off 25 deliveries made a huge impact on the game, while Corey Anderson remained unbeaten on 41 with Chris Morris 15.
The hosts had five good partnerships in their innings that made the chase possible. Delhi kept scoring at a brisk rate without thinking too much about the end result.
Earlier in the match the visitors lost the toss and were asked to bat first.
Sunrisers managed to get an impressive 185 for the loss of three wickets. They did not have an impressive start, as they lost their three top batsmen - skipper David Warner, Shikar Dhawan and Kane Williamson. But all thanks to Yuvraj Singh's outstanding performance along with Moises Henriques made the score of 185 possible.
Amit Mishra had the best bowling figures for the home-side, while Shami, who played in place of the injured captain Zaheer Khan, bowled a good line.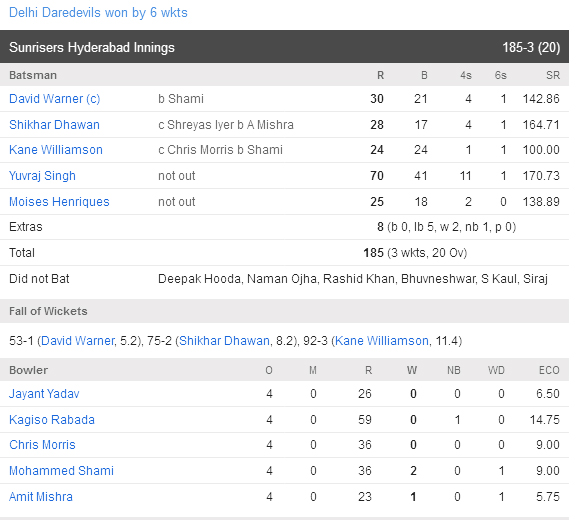 AMandeep