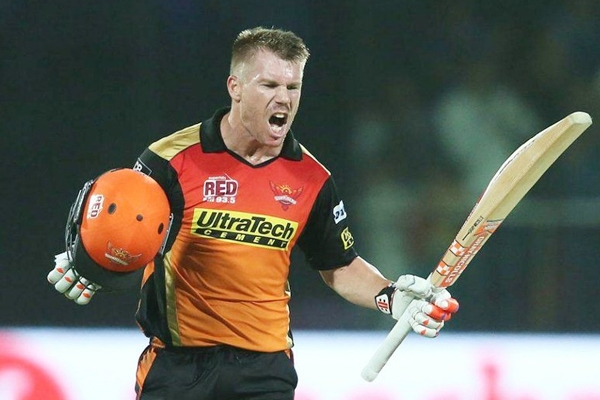 David Warner is well known for his devastating performance in all the three formats of the game and he proved that fact again against Kolkata Knight Riders yesterday.
Warner enhanced his reputation in the Indian Premier League with a blistering century that laid the foundation for SRH's win over the two time IPL champions KKR.
Probably SRH is the only team that does not get tensed and lose its confidence after losing a toss. The team just loves to bat first and teaches a lesson to all the other teams that how to defend a target. The same happened last night, after losing the toss SRH came to bat first.
Warner, who is also the captain of SRH, hit an array of gigantic strikes, crispy-timed boundaries and cheeky running between the wickets to keep his side ahead. He hit his very first delivery out of the ground and made it clear that he is not going to hold back. He carried that attitude from there, slamming whatever ball was in his range to the boundaries.
Warner opened scoring the first ever ton for SRH that too in just 43 balls. KKR bowlers, who are considered among the best, had no answers for Warner's brutality. As Warner's dominance went past the three figure mark, Shikhar Dhanwan had scored 20 off 23 balls.
Warner slammed a magnificent 126 off 59 balls, an innings stubbed with 10 fours and eight massive sixes. SRH ended scoring 209/3 in 20 overs.
KKR openers Gautam Gambhir and Sunil Narine failed to give a big start for their team as Narine left the crease after facing 4 balls and scoring only 1. While Gautam Gambhir scored 11 off 11 balls. Robin Uthappa and Manish Pandey tried their best to bring the team back on its feet, but they failed as Uthappa at 53 off 28 balls was caught by Warner off Mohammed Sriraj and Manish Pandey at 39 off 29 balls was caught and bowled by Bhuvenshwar.
The rest of the KKR batsmen became the clear victims of SRH's bowler and ended up scoring 161/7.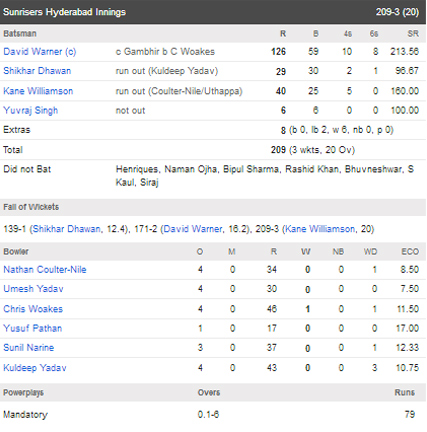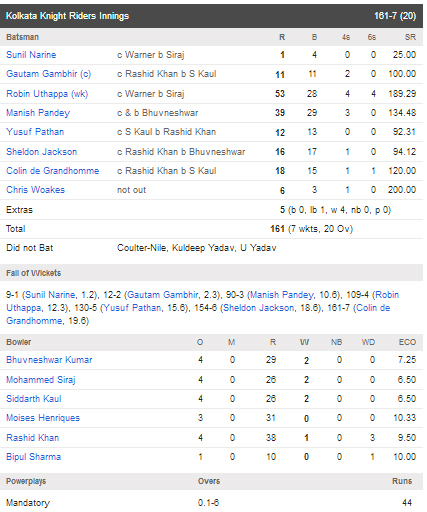 AMandeep