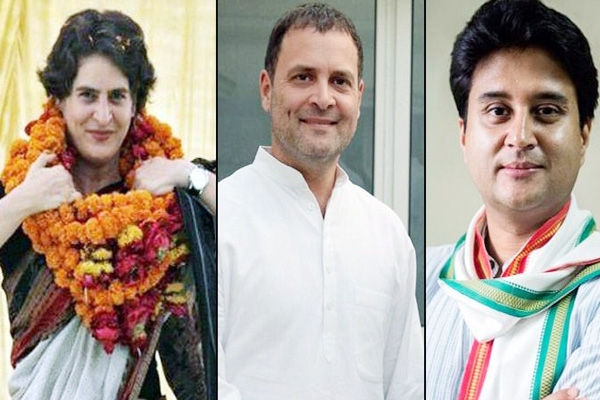 (Image source from: india.com)
Congress party kept all hopes on Priyanka Gandhi Vadra as she is set to kick start her campaign for Lok Sabha elections with a Road Show in Lucknow.
Recently, Piyanka Gandhi was appointed as party's general secretary of Eastern Uttar Pradesh for upcoming crucial general elections.
She will be accompanied with Jyotiraditya Scindia, general secretary for western UP and the Congress President Rahul Gandhi.
Congress president Rahul Gandhi tweeted that he and Jyotiraditya Scindia, the party general secretary for western UP, will join Priyanka.
"Coming to Lucknow today. Will be accompanied by Priyanka Gandhi Vadra and Jyotiraditya Scindia. Around 12pm, there will be a roadshow from Lucknow airport to Congress headquarters. Excited to meet you all."
लखनऊ आ रहा हूँ|

प्रियंका गांधी वाड्रा जी और ज्योतिरादित्य सिंधिया जी साथ होंगे|

दोपहर करीब 12 बजे, लखनऊ के हवाई अड्डे से पार्टी मुख्यालय तक रोड-शो का आयोजन किया गया है|

आप सभी से मिलने को उत्साहित हूँ| pic.twitter.com/H0yuBQvthM

— Rahul Gandhi (@RahulGandhi) February 11, 2019
Preparation are on full swing as UP Congress is expected to welcome all three leaders.
Lucknow: Latest visuals from Congress office. General Secretary for Uttar Pradesh East Priyanka Gandhi Vadra, General secretary for Uttar Pradesh West Jyotiraditya Scindia and party President Rahul Gandhi are visiting the city today. pic.twitter.com/zwfUn5VJTq

— ANI UP (@ANINewsUP) February 11, 2019
Earlier today Priyanka Gandhi Vadra joins twitter, ahead of her crucial visit to Uttar Pradesh.
According to reports, Priyanka and Scindia will remain in the state for next 3 days holding meeting with officer bearers and make out all the plans and strategy for the upcoming Lok Sabha elections.
This appointment of Priyanka Gandhi came after strong regional parties in Uttar Pradesh SP and BSP formed an alliance without congress.
In 2014 general elections congress party lost badly in the state, bagged just two seats out of 80 Lok Sabha seats.
-Sai Kumar