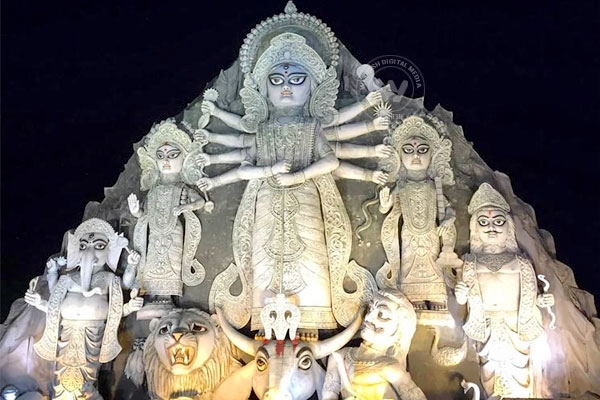 (Image source from: })
On Sunday there was a mini stampede near the puja mandap of the "world's tallest Durga idol" at Deshapriya park in Kolkata. This eventually led to the closing of access on Monday for the visitors. The 88-foot idol of goddess Durga has been touted as the world's largest one.
Commissioner of Police Surajit Kar Purkayastha declared Monday afternoon that the "largest" Puja illegal. He told the journalists that, "The Deshapriya Park Puja is closed for the year on the grounds of non-compliance with rules for holding such an event." People's safety was also kept in mind behind taking the decision, said the commissioner.
The Calcutta High Court's direction was broken by the organizers. The court capped the idol's height at 40 feet. And the "final height of the idol came to [their] view much later," Purokayasta said. On Saturday, cricketer Sourav Ganguly inaugurated the puja. It was then the height came in to the notice of the police.
It was also admitted by a senior police officer that the clearance was not sought for the puja from the local police station. Answering to why no action was initiated against the organizers, the official said, "We thought the matter will be resolved. We are not dealing with criminals here."
-Sumana