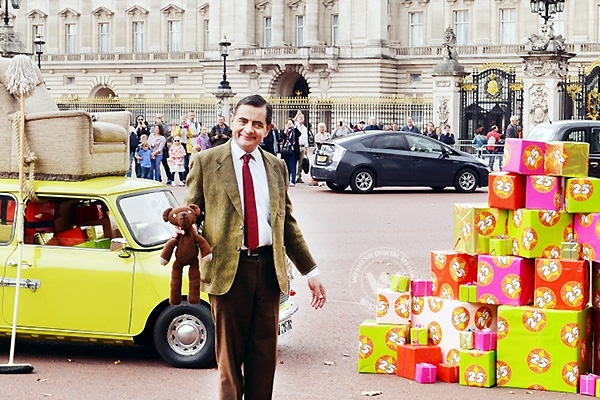 (Image source from: Mr Bean Celebrates 25 years at Buckingham Palace)
It's already 25 years since Mr Bean i.e.. Rowan Atkinson made an entry to the TV as the self-centered and lovable British comedy icon. As a part of the 25th anniversary celebrations, Mr Bean tours London landmarks in his popular character. The celebration at the Buckingham Palace, London, has marked the milestone anniversary of the show. Outside Buckingham Palace, the 60 year actor-comedian enjoyed a spin atop his iconic lime green Mini. Mr Bean drove the Mini to landmarks such as the Mall, Harrods, and Buckingham Palace.
A memorable scene from the show was recreated where Mr Bean packs his vehicle with full of shopping purchases, while he had to look for an alternative to drive it. Commemorating the popular show, Hashtag with #MrBean25 was on the car. The show that ran from 1990 to 1995 inspired two feature films besides a spin-off animated series. Other features that were part of the occasion were presents, a cake, and Teddy, Mr. Bean's best friend. From 7 September 2015, Mr Bean fans can buy his Ultimate Collection DVD boxset.
The hugely-popular episode 'Do-It-Yourself Mr Bean' was first aired in January 1994. In the original sketch, Bean snaps up quite a few items such as tins of paint, an armchair and a mop. He realized after squeezing all things inside the car and fastening the chair to its roof that no room is left for him to sit. The genius brings out a solution by driving the car remotely by seating himself on the chair fastened at the roof of the car. He then sets off on a daredevil driving journey.
-Sumana