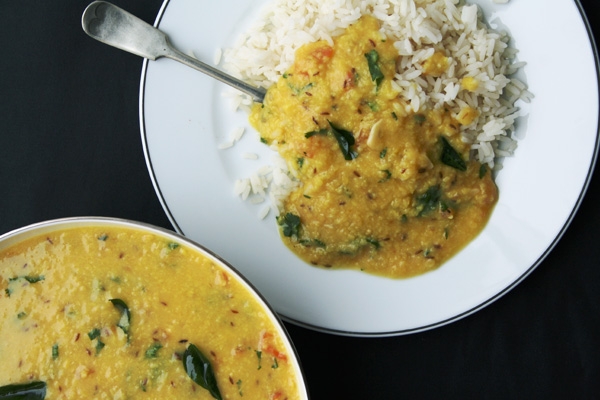 (Image source from: maunikagowardhan.co.uk)
Indians anywhere in the world are fond of dal (lentils) and rice, commonly known as dal chawal or dal khichdi. But then, many of the people avoid having it due to the fear of gaining weight.
However, it is found that this humble dish could be a nutritious solution to world hunger, as per a study by The Lancet.
As far as gaining weight on dal-rice is concerned, here's what you should realize. No particular meal can make you fat, but, it's the total calorie intake at the end of the day which matters.
Besides, dal and rice is the perfect combination to meet all your primary nutritional requirement, which helps in weight loss too.
Losing weight is smart work. One has to plan the diet regime tactically. Although skipping a particular meal, eating less or starving will give you the desired result, it will land up one in a worse state in a matter of time.
Likewise, many of them think that stopping rice intake will help in losing belly fat, which is not real since rice contains fewer carbs than roti.
Dal is rich in fiber and protein, whereas, rice, on the other hand, is rich in carbs but is gluten-free, which aids in improving gut health. From a scientific viewpoint, dal chawal together can provide the essential amino acids, which our body require.
The key amino acid in rice is methionine and in lentils it is lysine. The combination of the two fulfills our requirements of essential amino acids in a single meal.
There is another myth which says that rice should not be consumed for dinner. A recent study has shown that one cup of dal chawal in dinner at least four times in a week or every day helps in improving your bowel health, skin, hair and release of energy needed to carry day to day task.
It is vital to note that anything in excess sooner or later causes weight gain, hence try to keep the portion to one vati or cup. Track your calorie consumption, take proper counseling or advice before making any decision accompanying your diet and exercise a bit to keep yourself energetic and in good physical condition.
-Sowmya Sangam