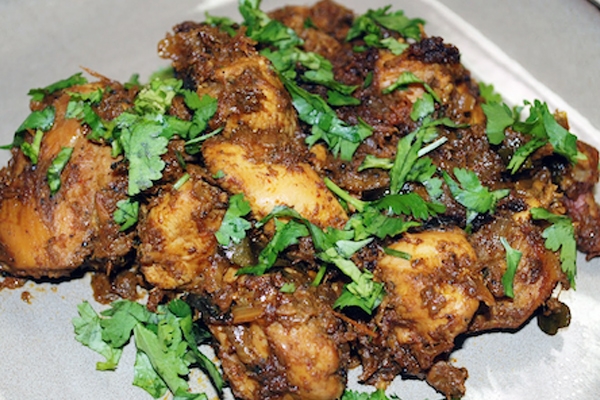 (Image source from: Pepper Chicken Chettinad})
The world famous Chettinad pepper chicken masala is a spicy and delicious chicken recipe from Chettinad in South India. Pepper Chicken Chettinad is a mouth watery side dish loved by any one. Check the recipe here.
Ingredients required for pepper Chicken Chettinad
Chicken: app. 1/2 kg
Tomatoes: 2 (diced)
Green chilli: 1 (slit)
Onion: 2 (chopped)
Ginger Garlic paste -1tbsp
Whole Garam Masala with cloves, cardamom - 2 pieces each, cinnamon, Bay Leaf - 1 piece each
Coriander powder: 1 tbsp
Cumin powder: 1 tsp
Turmeric powder: 1/4 tsp
Red chilli powder: 2 tsp
Crushed black peppercorns: 1.5 tbsp (preferably freshly crushed)
Mustard seeds: 1 tsp
Fennel seeds: 1 tsp
Curry leaves: 2 strands
Lemon Juice: 1/2 of a lemon
Salt: 2 tsp
Coriander leaves for garnish
Oil: 2 tbsp
Method to prepare Pepper Chicken Chettinad
•Marinate the chicken with salt, turmeric powder and lemon juice.
•Take a deep vessel to heat oil.
•Add mustard seeds, fennel seeds for tempering.
•Add whole garam masala.
•Add chopped onions and green chilies. Saute.
•Add ginger-garlic paste.
•Add curry leaves and sauté.
•Add tomatoes and sauté, until it turns pulpy.
•Add coriander powder, chilli powder, cumin powder and 1/4 cup water.
•Saute for 10 mins in medium heat.
•Add chicken pieces and toss well. Cover.
•Cook for 10-15 minutes.
•If you want the dish with gravy, add water.
• Once the chicken gets cooked, add crushed pepper powder.
•Check for seasoning. Mix well and switch off.
•Add coriander to garnish and fresh curry leaves.
-Sumana