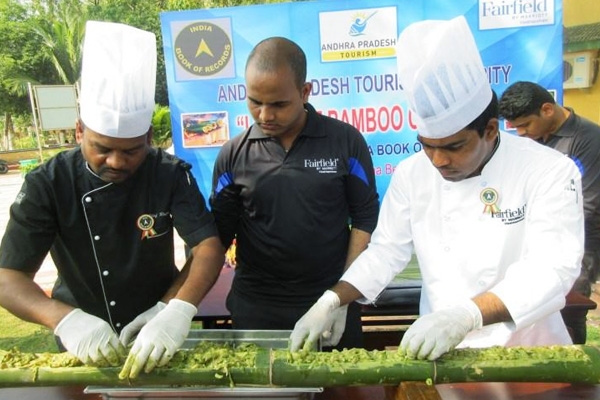 (Image source from: www.thenewsminute.com)
A popular culinary dish bamboo chicken or bongu chicken has bagged the place in India Book of Records for making a 15-long feet bamboo chicken, the longest in India till date.
The Andhra Pradesh Tourism Authority (APTA) has hosted the event at Haritha Berm Park hotel in Vijayawada, with an aim of spreading deliciousness and uniqueness of bamboo chicken across the world.
A Rupeshwar Rao, Chief Chef at Visakhapatnam Fairfield Marriott and his team comprising of at least six members, carried out the feat in front of representatives of India Book of Records and the media, simultaneously explaining the procedure and ingredients used in the dish.
Shantanu Chauhan, Adjudicator with the India Book of Records who witnessed it, has awarded the record to AP Tourism Authority for making and displaying the longest bamboo chicken of 15 feet.
Speaking to The New Minute, Shantanu said, "This is the first time that such cuisine is finding a place in the India Book of Records. We have witnessed the entire procedure of making the 15-feet bamboo chicken, which the Chef and his team have excellently executed."
He added that the bamboo chicken should be least possible 8 feet to make into India Book of Records while the one prepared by Rupeshwar Rao and his team is 15 feet.
Speaking to TNM, Rupeshwar Rao said that bamboo chicken despite its uniqueness hasn't attained enough recognition globally.
Rao said, "Whenever any tourist approaches me asking what to eat in Araku valley on their visit, I suggest them to go for bamboo chicken."
He added, "Last year, in order to make this dish popular across the globe, we have come up with this proposal."
Rao showed the making of the bamboo chicken, where locally made culinary ingredients were used for marinating the country chicken with onion slices, green chilies, salt, and wild coriander leaves and a few other south Indian herbs.
Kumar, Executive Director of AP Tourism Development Corporation (APTDC), speaking at the event, said that it's a great achievement that will carry the richness of local food cultures to the international level.
He also said that APTDC is doing it's best to develop tourism in the state, which would also generate employment for the youth.
-Sowmya Sangam