Kangana Ranaut and Mumbai Police are at Loggerheads in Sushant Singh Rajput's Death Case
July 23, 2020 19:49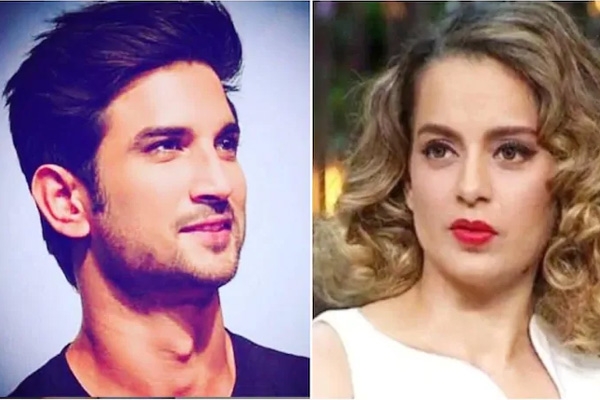 (Image source from: indiatoday)
Mumbai Police and Kangana Ranaut have been accusing each other not cooperating in giving a statement about Sushant Singh Rajput's death.
Ever since the death of promising Bollywood actor Sushant Singh Rajput, Kangana has been vocal about the whole issue and wanted to record her statements to the police to make the investigation more clear.
In the recent developments, we have learned that Mumbai Police and Kangana have been accusing each other of non-cooperation in the case.
Kangana's team on Wednesday shared screenshots saying the actress has not received any summons from the Mumbai Police to record her statement. However, for the past 2 weeks, Kangana's sister Rangoli has surely received casual calls from the Police.
Meanwhile, her team says that Kangana Ranaut has been eagerly waiting to record her statement but Mumbai Police did not respond to her.
There is no formal summon sent to Kangana , Rangoli keeps getting casual calls from the cops for past 2 weeks, Kangana wants to record statement but we don't get any response from @mumbaipolice, Here's a screen shot of message Rangoli ji sent to @mumbaipolice pic.twitter.com/w03i2csbWV

— Team Kangana Ranaut (@KanganaTeam) July 22, 2020
According to sources, Kangana wants to record her statements in Sushant's death case but Mumbai Police is not supporting her.
On the other hand, Mumbai Police is blaming Kangana. According to Police sources, they had sent summons to Kangana's flat on July 3 and on the next day she was called to Bandra Police station to give her statement.
However, Kangana's manager Amrita Dutt refused to accept the summons from Mumbai Police.
Some sources further stated that when Police personnel had asked for Kangana's number to talk to her, the manager gave her number to the Police.
Now, the Police have contacted Kangana's sister Rangoli and he has said that the Police must write their questions they decided to ask Kangana and she would then email her answers to Police.
The imperative question here is why the Mumbai Police and Kangana are not able to reach a consensus regarding this issue which would bring some truth about Sushant's death out to the public if Kangana records her statements.
However, in a further development, the news came that, on Thursday i.e., today Mumbai Police have re-issued a summon to Kangana Ranaut to record her statements on the death of actor Sushant Singh Rajput.
Now, since the actress has received a summon again, she is likely to record her statement online. Kangana is in her home town Manali which is why her sister Rangoli allegedly asked Police for the questions so that she could reply through mail.
Since June 20202, Kangana has been lashing out at Bollywood biggies for promoting nepotism in the industry which according to her has led to the death of Sushant.
The Mumbai Police have so far recorded the statements of 36 people in relation to Sushant's sudden demise. Sushant's fans have been continuously demanding CBI enquiry on Sushant's death.
Recently, his fans have lighted a candle in their premises to raise their demand for a CBI enquiry to bring out the truth behind the actor's death.
By Gayatri Yellayi